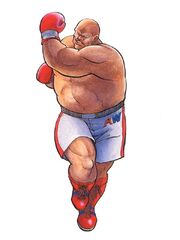 This list is incomplete. You can help improving it by editing!
In Battle
Edit
Fatal Fury 2
Edit
Pre-Battle Quote
Edit
"You're going to hear a ten count. You are history!"
Win Quote
Edit
"My punch improved your looks. Ha,ha!"
Fatal Fury Special
Edit
Pre-Battle Quotes
Edit
"Put up your dukes. You're 10 counts from Hell."
"You traitor. Time to pay the fiddler!" (Vs. Billy)
"The tyrant Geese seems to have flown South. Heh, heh." (Vs. Geese)
"To the archives with you, my foolish friend." (Vs. Himself)
"Oh, I say, fight, anyone?" (Vs. Krauser/Laurence)
Win Quotes
Edit
"My punch is steel. My face is not. Ouch!"
"From today just call me no.1. Sweet Buns is fine, too." (Vs. Krauser)
"If it's a fight, I'm available any time, anywhere." (Vs. Laurence)
Axel: "Float like a feather. Sting like a hornet. No, that's not it."
Ad blocker interference detected!
Wikia is a free-to-use site that makes money from advertising. We have a modified experience for viewers using ad blockers

Wikia is not accessible if you've made further modifications. Remove the custom ad blocker rule(s) and the page will load as expected.