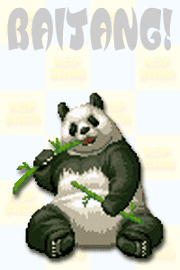 Baitang is a character in The King of Fighters series of fighting games. It is a panda bear that was first introduced in The King of Fighters 2000 as Chin's Another Striker. This is meant to be an inside joke to fans as Chin is said to dislike panda bears.
Baitang is a panda bear that was befriended by Bao in the course of The King of Fighters 2000 tournament. Baitang was used at least once as a striker for the team that year. It is implied that Chin and Baitang share an uneasy relationship, since Chin hates panda bears. Baitang also made a cameo appearance in the Neo Psycho Soldiers ending in The King of Fighters XI, when Kensou thanks him for everything it did.
Fighting Style
Edit
Baitang's attacks consist in rolling and trampling the opponent.
Game Appearances
Edit
Cameo Appearances
Edit
Ad blocker interference detected!
Wikia is a free-to-use site that makes money from advertising. We have a modified experience for viewers using ad blockers

Wikia is not accessible if you've made further modifications. Remove the custom ad blocker rule(s) and the page will load as expected.