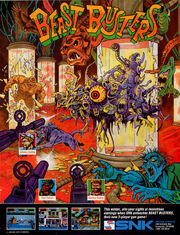 Beast Busters
is a rail shooter arcade game released by
SNK
in 1989 and ported to the Commodore Amiga and the Atari ST in 1990.
A city has been invaded by the undead. Play as one of three militiamen named Johnny Justice, Paul Patriot and Sammy Stately, who must shoot their way out of the city.
The game was known for having irregular bosses, such as a zombie punk who mutates into a dog, or a jeep which starts coming to life. One stage ends with the militiamen having to rescue a female CIA agent from that stage's boss.
A sequel entitled Beast Busters: Second Nightmare was released in 1999 on the Hyper Neo Geo 64. This version is much darker than its predecessor and was developed with ADK.
Ad blocker interference detected!
Wikia is a free-to-use site that makes money from advertising. We have a modified experience for viewers using ad blockers

Wikia is not accessible if you've made further modifications. Remove the custom ad blocker rule(s) and the page will load as expected.