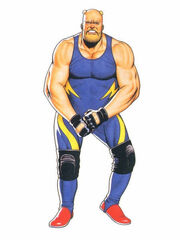 List of quotes for the face persona Big Bear.
Fatal Fury 2
Edit
Pre-Battle Quote
Edit
"Start at once. You're finished."
Win Quotes
Edit
"Ahh, I think it was too much!"
"My power is tremendous. I want to fight the next one!"
"Use your head! You think you can beat me?"
"You're like a fly. Your sounds annoy me."
"You chose the wrong person to intimidate." (Vs. Himself)
(Bear did his victory pose after defeating Krauser)
May 15, 1993. Big Bear becomes the strongest in the world.
Bear: "No one can challenge me? Terry, let's have a rematch."
Fatal Fury Special
Edit
Pre-Battle Quotes
Edit
"Taste the blows of this reborn titan. Ah cha cha." (Vs. Characters presented in Fatal Fury)
"Stop whining. One blow and it'll be all over." (Vs. Fatal Fury 2 newcomers)
"Oooh. You make me so flustered." (Vs. Geese)
"Just so you don't copy me again. I'm gonna crush you!" (Vs. Himself)
Win Quotes (Big Bear)
Edit
"Whoops! I hope that heals all right."
"Change your soul or at least your shoes. P.U.!" (Vs. Geese/Krauser)
Bear: "Terry Bogard! One more match!"
Ad blocker interference detected!
Wikia is a free-to-use site that makes money from advertising. We have a modified experience for viewers using ad blockers

Wikia is not accessible if you've made further modifications. Remove the custom ad blocker rule(s) and the page will load as expected.