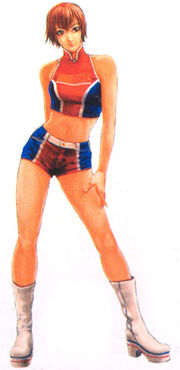 Buriki Girl (武力 GIRL) is an umbrella term for the showgirls that appear before and after fights in Buriki One. There are five girls in the unit, each appearing at different times and locations. They usually are seen holding placards for the round number or other similar info.
Back when the game still had its homepage, SNK released a contest centered around them called, Buriki Girl Contest. The challenge was to name all the girls and correctly state when each girl appears in the game. Reportedly, the hardest one for users to find and name was Hinako.
Hinako Touno (遠野 緋名子, Tōno Hinako)
Birthplace: Osaka
Age: 21
Height: 165 cm (5' 5")
Weight: 50 kg (110 lbs)
Three sizes: 84, 59, 87 cm
Appears at the game over screen. Likes basketball and dancing. She also makes a background cameo in The King of Fighters 2002: Unlimited Match.
Nanami Sakai (酒井 七海, Sakai Nanami)
Birthplace: Miyagi
Age: 24
Height: 167 cm (5' 6")
Weight: 51 kg (112 lbs)
Three sizes: 79, 53, 83 cm
Woman with short blue hair.
Hikaru Kouda (幸田 光, Kōda Hikaru)
Birthplace: Fukuoka
Age: 25
Height: 170 cm (5' 7")
Weight: 52 kg (115 lbs)
Three sizes: 89, 58, 90 cm
Tan skin and blond hair. Looks like a kogal.
Midori Marukame (丸亀 みどり, Marukame Midori)
Birthplace: Nara
Age: 19
Height: 163 cm (5' 4")
Weight: 48 kg (106 lbs)
Three sizes: 90, 60, 90 cm
Girl with blondish-green hair.
Shizue Sakurada (桜田 静絵, Sakurada Shizue)
Birthplace: Tokyo
Age: 21
Height: 165 cm (5' 5")
Weight: 49 kg (108 lbs)
Three sizes: 86, 58, 87 cm
Wears a pink shirt and has brown hair.
Ad blocker interference detected!
Wikia is a free-to-use site that makes money from advertising. We have a modified experience for viewers using ad blockers

Wikia is not accessible if you've made further modifications. Remove the custom ad blocker rule(s) and the page will load as expected.