Ad blocker interference detected!
Wikia is a free-to-use site that makes money from advertising. We have a modified experience for viewers using ad blockers

Wikia is not accessible if you've made further modifications. Remove the custom ad blocker rule(s) and the page will load as expected.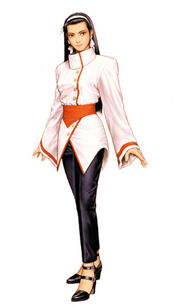 Here is a list quotes for Chizuru Kagura.
The King of Fighters '96
Edit
Win Quote (Game Boy)
Edit
"You do not seem to know what real power is. That is why you cannot defeat me."
Win Quotes
Edit
"Those with reasons to live have the true power to win!"
"Trying with all your might is the true path to victory!"
"You can't beat me until you know what true power is!"
Win Quote (Game Boy as Maki)
Edit
"Rise to every challenge with your full power, and eventually you will achieve victory!"
The King of Fighters '98
Edit
Win Quote
Edit
"Play time's over. Winning's to easy. You can't lay a finger on me!"
The King of Fighters 2003
Edit
Win Quotes
Edit
"Mirror to mirror... an endlessly false image."
"The mirror does not lie. It sees all strengths and faults."
"This is... the strength of the Watcher!"
"You dance in the mirror. You destroy yourself."
"...I must defend. Against any foe." (Vs. Ash)
"Go back to that gorge of the mirror..." (Vs. Herself)
"Sister..." (Vs. Kagura)
"You will fulfill the duty and mission of the three vessels." (Vs. Kyo/Iori)
Win Quotes (Maki)
Edit
"Mirror to mirror. The source of all that's false. Chizuru..."
"The mirror reveals all. You rage in my palm..."
"This is the power of... the Watcher!"
"While you injure me... you dance but in the mirror."
"The sacred mirror shows not your soul... What are you?" (Vs. Ash)
"The mirror leads light to dark. Chizuru, only you..." (Vs. Chizuru)
"Impossible! Has the decline of Yasakani gone this far?!" (Vs. Iori)
"...Pathetic! ...The fist of Kusanagi has lost its punch!" (Vs. Kyo)