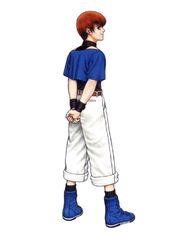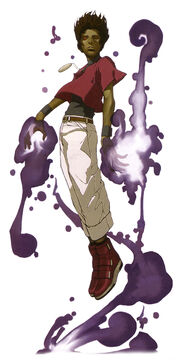 This list is incomplete. You can help improving it by editing!
In Battle
Edit
Japanese
English Translation
Yada na...tsuyo so!
Oh man...you look strong!
Deteoi de, boku no honoo! (*)
Come to me, my flames! (*)
Sa; tanoshi mo, boku no Honō!! (*)
C'mon; let's have some fun, my flames! (*)
Sa, mitegoran boku no honoo! (*)
Hey, everyone see my flames! (*)
Yashiro!
Sherumi!
Shermie!
Ue da yo!
I'm above you!
Ue desu!
Up here!
Ue kamo!
Maybe the top!
Shita de yo!
I'm below you!
Shita desu!
Down here!
Shita ka na?
Is it the bottom?
Ushiro desu!
Behind you!
Torimashi ta!
I've got you!
Honki dashimasu ne!
I'll show you everything I have!
Mou ii?
Is it good?
Enryonaku, ikimasu!
I'm coming, but without any mercy for you!
Kawaru yo!
I'm transforming!
Sanagi wo yaburi, chou wa mau... (*)
From it's cocoon, the butterfly flutters away... (*)
Honoo! (*)
Fire! (*)
Hai; shinde kudasai! (*)
Yes; please die! (*)
Sa, yakitsukuso ne! (*)
Okay, let's burn it all! (*)
Konya, nani tsukuro ka na?
Oh boy, I wonder what I should make for dinner tonight?
Izure, mina shinundesu yo! (*)
In time, everyone will die! (*)
Hai ni shite ageru yo! (*)
I'll turn you into ashes! (*)
Doushi te sonna koto suru ka na?
Why would you do something like that?
Ashita mo hareruka na?
I wonder if it will be sunny again tomorrow?
Omoshiro katta?
Was this fun?
Tanoshikatta desu; hai!
Yes; that was fun!
Mushikera ni shite wa yoku ganbatta na! (*)
You did well for scum! (*)
Sa, mitegoran haisha no sugata da yo! (*)
Hey, take a look at this loser! (*)
Chikyu daisuki, jinrui kirai. (*)
Love the earth, hate the humans. (*)
Oh...h, hikari ga...
Oh...the light...
(*) As Orochi Chris
The King of Fighters '98
Edit
Special Intros
Edit
"YASHIRO!" (Chris/Orochi Chris vs. Yashiro/Orochi Yashiro)
"SHERMIE!" (Chris/Orochi Chris vs. Shermie/Orochi Shermie)
Win Quote
Edit
"You make me laugh, chump. And laugh. And laugh. And laugh."
The King of Fighters 2002
Edit
Win Quotes
Edit
"That was a gas! Ten-hut, loser!" (Win as Chris)
If you want an omelet.. Ya gotta break some heads! (Chris, hold B)
Forgive me.. I tried to be gentle.. (Chris, hold C)
"Hmm. Have you got a little chubby there, Shermie?" (Chris vs. Shermie)
"You did well for scum. (Win as Orochi Chris)
All is nothing. (Win as Orochi Chris, Hold B)
No matter how you try. Scum can only be scum. (Win as Orochi Chris, Hold C)
"Stop my power, can you? You poor Simple Simon..." (Orochi Chris vs. Leona)
"That's the Orochi power? I wouldn't brag about it!" (Orochi Chris vs. Omega Rugal)