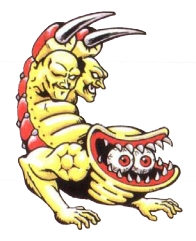 Clawhead is a two-headed, horned monster. He has a mouth for a stomach and inside that mouth are eyeballs. He uses his two arms as feet to move around. He made his first appearance in King of the Monsters 2 as a boss. He reveals himself at the end of the third stage by breaking through and destroying the historic sight of Mount Rushmore.
Energy beams - Clawhead can fire energy beams at his opponents.
Spinning attack-Clawhead can attack while spinning and jumping.
Fighting Style
Edit
He can leap toward enemies and go across them while spinning once. Players can deal extra damage to him by throwing a large pillar-like rock.
Game Appearances
Edit
Ad blocker interference detected!
Wikia is a free-to-use site that makes money from advertising. We have a modified experience for viewers using ad blockers

Wikia is not accessible if you've made further modifications. Remove the custom ad blocker rule(s) and the page will load as expected.