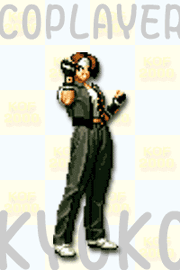 Cosplayer Kyoko (コスプレイヤー京子, Kosupureyā Kyoko) is a character in The King of Fighters series of fighting games. She was first introduced in The King of Fighters 2000 as Shingo Yabuki's another striker. She is SNK's allusion to female fans who frequently cosplay as Kyo in their events. She is voiced by Haruna Ikezawa.
Kyoko is a young girl and fan of Kyo Kusanagi. She cosplays him and tries to copy his moves.
Personality
Edit
She is an outgoing girl with high hopes of meeting her idol, Kyo.
Fighting Style
Edit
She mimics Kyo's fighting style. Her striker action is the 75 Shiki: Kai.
Game Appearances
Edit
Cameo Appearances
Edit
Similar Characters
Edit
Ad blocker interference detected!
Wikia is a free-to-use site that makes money from advertising. We have a modified experience for viewers using ad blockers

Wikia is not accessible if you've made further modifications. Remove the custom ad blocker rule(s) and the page will load as expected.