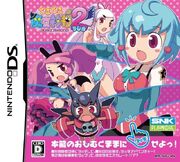 Doki Doki Majo Shinpan! 2 (どきどき魔女神判! 2, with the "2" read as "Duo") is the sequel to Doki Doki Majo Shinpan! for the Nintendo DS. It was released on July 31, 2008. The game's Cero rating is D (ages 17 and up), making it an adult title and different from the last game's C rating for teens (ages 15 and up).
Akuji, the previous protagonist, returns with a new spirit companion. The game expands the infamous "Witch Checking" system of the last game by adding more animations and allowing players to check anyone (including random classmates). It also includes more minigames, chapters for the game's side story, and a dating system for the story. Most of the characters speak in a high-pitched voice with a sing-song rhythm.
Main Characters
Edit
Akuji Nishimura (Seiyū: Miku Osaki)

He is a 15 junior high student hard at work on finding witches.
He is proud to be a bad boy and forced to cooperate by the threat of being changed into a good boy. He is occasionally visited by his previous guide, Lulu.
Demon Kuro (Seiyū: Oma Ichimura)

6 year old demon who serves as Akuji's guide in this game. She is actually a fallen angel who is trying to redeem her crimes by helping Akuji. Her real name is Claudia Livalti.
Koron Seika (Seiyū: Kimiko Koyama)

Part-time worker and friend of Akuji. A natural trouble maker who helps out anyone in her class. She dreams to be a pastry chef.
Kureha Haori (Seiyū: Harumi Sakurai)

Talented and beautiful grade A student. Has the admiration of her classmates and her own fanclub. Has long pink hair tied with a bow in back.
Sophy Hiro (Seiyū: Ui Miyazaki)

School's maid and a confident of Kureha. She takes her namesake from the word "philosophy".
Kamome Tomozato (Seiyū: Hasumi Ito)

Eccentric green haired girl who loves comics and anime. She is a huge fun of ninjas and particularly likes the Ninja Combat and Ninja Commando games.
Nagi & Nami Futaba (Seiyū: Misato)

Star athletes and friendly rivals of the school's swim team. Twins; They are both girls.
Rekka Nagisa (Seiyū: Yū Kobayashi)

Young swordsman to her three sword fighting style. Fights to protect witches.
Neon Rizumi (Seiyū: Sakura Nogawa)

Overconfident fashion idol who dresses in gothic lolita. Athena Asamiya cosplays as her in Days of Memories.
Himeki Sakura (Seiyū: Yukie Kobayashi)

Reporter for the school's magazine. Always has a camera around her neck.
Akari Homa (Seiyū: Misami Sato)

Classmate of Akuji's. Bears a striking resemblance to the game's last heroine, Maho Akai.
Other Characters
Edit
Seiji Kamisu

Rival to Akuji. An ace in sports, academics, and witch-hunting.
Angel Sanome

Seiji's angel assistant. Intelligent like her master.
Reverse-Panda

The color of this type of panda is quite opposite to a usual panda. It hides itself in 100 places throughout the game. The number obtained at the end of the game reveals more episodes in the "Extra Episodes" mode.
Usa-maru

A tiny white rabbit dressed in a red yukata. Rival to Reverse-Panda.
External Links
Edit
Ad blocker interference detected!
Wikia is a free-to-use site that makes money from advertising. We have a modified experience for viewers using ad blockers

Wikia is not accessible if you've made further modifications. Remove the custom ad blocker rule(s) and the page will load as expected.