Garou: Mark of the Wolves

Cover art. Illustration by TONKO.
Developer(s)
SNK, Code Mystics (PS4, PS Vita), DotEmu (Steam, Humble Bundle, GOG), CRI Middleware, Agetec (Dreamcast), Hamster Corporation (Nintendo Switch)
Publisher(s)
SNK, CRI Middleware, Agetec, Hamster Corporation, Valve (Steam)
Release date
Arcade
JP November 26, 1999
Neo Geo
INT February 25, 2000
Dreamcast
JP September 27, 2001
NA November 23, 2001
PlayStation 2
JP June 30, 2005
Xbox Live Arcade
WW June 24, 2009
iOS
WW February 19, 2015
Android
WW February 19, 2015
PlayStation Network
JP July 15, 2015
PlayStation 4 & PlayStation Vita
WW December 3, 2016
Microsoft Windows
Humble Bundle:
WW January 9, 2016
Steam:
WW December 7, 2016
GOG:
WW October 5, 2017
Nintendo Switch
WW May 11, 2017
Genre
Fighting game
Game modes
Single-player, multiplayer
Ratings
Dreamcast & Xbox 360
Teen (ESRB)
iOS
12+ (Apple)
PlayStation 2
12+ (CERO)
Platform(s)
Arcade, Neo Geo, Dreamcast, PlayStation 2, Xbox Live Arcade, iOS, Android, PlayStation Network, PlayStation 4, PlayStation Vita, Microsoft Windows, Nintendo Switch
Garou: Mark of the Wolves (餓狼 MARK OF THE WOLVES, Garō Māku obu za Uruvusu) or Fatal Fury: Mark of the Wolves for the Dreamcast release; referred to as Garou or MOW for short, it is the ninth and currently final game in the Fatal Fury series set ten years after the death of Geese Howard. It is known for pushing the graphical capabilities of the Neo Geo, utilizing 3D graphics and semi-transparency, as well as its well-balanced roster of characters and highly technical gameplay.
As part of SNK's celebration of the series's 15 year anniversary, a retrospective movie was made to take place shortly after.
In December 2016, the game was released for three platforms: for PS4 and PS Vita, on Day 3, and for Steam, on day 9. There was already another PC version, released by the Humble Bundle, in January of that year.
Ten years after crime lord Geese Howard's death, the city of Southtown has become more peaceful. Now, the stage is the neighbour city known as Second Southtown. A new fighting tournament called "King of Fighters: Maximum Mayhem" starts in the area, and several characters related with the fighters from the old era of King of Fighters tournaments participate within it.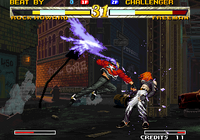 Garou: Mark of the Wolves general gameplay mechanics and art style are changed to more closely resemble SNK's The King of Fighters series using a similar button layout (A for weak/light punch, B for weak/light kick, C for strong/heavy punch and D for strong/heavy kick). However, chaining normal attacks into each other tends to be strict on timing and involves heavy usage of the recurring feint mechanic (forward + A and C or down + A and C) in order to cancel them smoothly.
T.O.P. System
Edit
The Tactical Offensive Position System or T.O.P. is a new system. Before each match begins, the player is given option to adjust the T.O.P. meter's influence onto three different places on their character's life meter (beginning, middle, end). When a character's life meter reaches the white T.O.P. section, the character will flash with their HP bar's T.O.P. section turning orange, and enter a special state which will grant them the following advantages:
increased damage output
slow health regeneration
ability to perform T.O.P. attacks, which often deal heavy amount of reduction to the guard meter if blocked
Once the character's life meter falls out T.O.P. range, the character will lose these benefits.
Just Defense System
Edit
Just Defense allows players to benefit from defending by activating it against incoming attacks at the last second. Players can perform Just Defense against any type of attack. Just Defense has following advantages:
small health recovery for each successful Just Defense activation
ability to Guard Cancel.
Characters
Edit
Cancelled sequel
Edit
The game's sequel, tentatively titled Garou: Mark of the Wolves 2, was reported to be in the works on the Neo Geo system several times by Korean news sources. Since 2002, the project has been put on hold and eventually cancelled. According to Falcoon at the 2005 KOF Party, the game's sequel was around 70% percent complete by the old SNK team. Ureshino reported that a new grappler character and Joe Higashi's apprentice were added to the roster.
External Links
Edit
Ad blocker interference detected!
Wikia is a free-to-use site that makes money from advertising. We have a modified experience for viewers using ad blockers

Wikia is not accessible if you've made further modifications. Remove the custom ad blocker rule(s) and the page will load as expected.