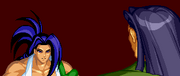 Genshinsai (月心斎) is a secondary character in the Samurai Shodown series. He is the leader of the Kazama Ninja Clan and is often giving missions for Sogetsu to carry out on the clan's behalf. The 3D titles of the series imply that he becomes Sogetsu's foster father.
Appearances
Edit

Ad blocker interference detected!
Wikia is a free-to-use site that makes money from advertising. We have a modified experience for viewers using ad blockers

Wikia is not accessible if you've made further modifications. Remove the custom ad blocker rule(s) and the page will load as expected.