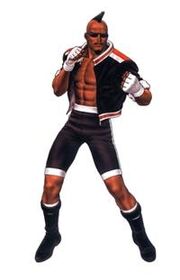 Here is a list quotes for Heavy D!
In Battle
Edit
"Nigasuka yo!" - "You can't escape!"
"Tsuite koreku ka?" - "Can you keep up with me?"
"Mou, aki ta ze!" - "Man, I'm sick of this!"
"Tsuri wa ira ne...TOTTOKI NA!!!" - "You can keep the change...EAT THIS!"
"Hey, hey, hey!"
"Utte koi yo!" - "Come and hit me!"
"Amai na!" - "Pathetic!" 
"Machi kani ta ze!" = "I've been waiting for you!"
"Kore ga shosha no kobushi de yatsu da!" = "THIS IS WHAT A REAL WINNER'S FIST IS!"
"Anta no kobushi wa, karuin dai yo!" = "You're fist, is [way] too light!"
"Yare, yare...Tsumanai ze!" = "Oh man...You're a joke!" 
"Utsu wa oshire!" = "You're outta your league!"
The King of Fighters '94
Edit
Win Quotes
Edit
"You weren't worthy opponents." (vs. Brazil Team)
"We know all of your attacks." (vs. China Team)
"Muscle counts here, girls!" (vs. England Team)
"Your fans must be disappointed." (vs. Italy Team)
"My punch is invincible." (vs. Japan Team)
"You make me sleepy!" (vs. Korea Team)
"We can beat anybody!" (vs. Mexico Team)
"You came across real fighters." (vs. USA Team)
King of Fighters 98
Edit
Win Quote
Edit
"Slow. Your attack's too slow. I read you like a storybook."