Ad blocker interference detected!
Wikia is a free-to-use site that makes money from advertising. We have a modified experience for viewers using ad blockers

Wikia is not accessible if you've made further modifications. Remove the custom ad blocker rule(s) and the page will load as expected.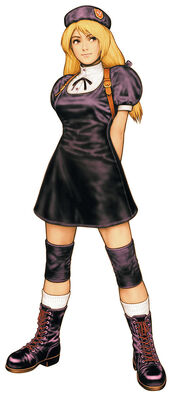 This list is incomplete. You can help improve it by editing!
Here is a list of quotes for Hinako Shijou.
The King of Fighters 2000
Edit
Win Quotes
Edit
"I reacted without thinking. You okay? ...I didn't think so."
Lose Quote
Edit
"This heavenly body has fallen from grace."
The King of Fighters 2001
Edit
Win Quotes
Edit
"Oh, this weight... I feel sumo history coursing in me!"
"I'll need more practice to be a real sumo wrestler."
"I gotta show my sumo teammates what I can do!"
"What a... hulk. I gotta bulk up more".(Vs.Chang)
"You're built for the sumo, show me your stuff." (Vs. Maxima)
"Team Japan, you say? You had a tosser, didn't you?" (Vs. Japan Team)
"Champions of justice? You've gotta be kidding me!" (Vs. Korea Team)
The King of Fighters 2003
Edit
"If I win KOF, I'm making a commemorative loincloth!"
"Yeah! I matched you for every move, loser!"
"What a match! Let's try it in the sumo ring sometime."
"You may not agree, but victory is mine, right?"
"It's okay. Even a waif like you can be a sumo wrestler." (Vs. Athena/Malin)
"Ah...! I want to share it... This special feeling..." (Vs. Chang)
"U-uh... y-you're really suited for sumo, I think..." (Vs. Daimon/Maxima/Tizoc)
"Uh, Mai... I really think you should rethink that outfit." (Vs. Mai)