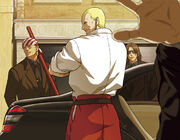 Howard Connection
(ハワード・コネクション) is the self-founded enterprise of
Geese Howard
. On the surface, it is a powerful protection agency that strives to help the people of
South Town
. Its well-meaning portrayal in the media is mainly a front to deter investigators from the kingpin's connections with the mafia. Thanks to his years of work, it controls all of South Town and some parts of the globe. Its headquarters is
Geese Tower
and there is another branch located near the famous skyscraper.
After Geese's death, the business is run for a time by his brother-in-law, Kain R. Heinlein.
Geese's crime syndicate's businesses often overlap with Howard Connection, and most of his underlings pose as employed by the company as personal security.
Known Members
Edit
The members of Howard Connection/Geese's crime syndicate are the following:
Ad blocker interference detected!
Wikia is a free-to-use site that makes money from advertising. We have a modified experience for viewers using ad blockers

Wikia is not accessible if you've made further modifications. Remove the custom ad blocker rule(s) and the page will load as expected.