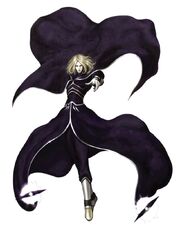 Here is a list of quotes for Igniz.
In Battle
Edit
"Nesutsu yami no shihaisha, ware koso saikyo...migoto koete miseyo." - "The conquer of darkness, NESTS; and me, the strongest. Try and best me."
"Saa, kuru ga ii. Chansu wo ataete yarou." - "Now, come at me. Do not miss this chance."
"Erabareshi shukumei no otoshigo, ima koko ni chikara wo shimeshi." - "You who have been chosen by fate, show me that power of yours now."
"Ware ni ken wo atteta koto...homete yaru..." - "You dared to lay a hand on me...I'm surprised..."
"Shoushi..." - "Absurd..."
"Amai..." - "Pointless..."
"Ochiyo..." - "Fall..."
"Fire."
"Mai oriyo..." - "Sweep down..."
"Migoto da..." - "You did well..."
"Nozomi doori ni...ten kara ochi yo!" - "Just as you wish...I'll cast you from the heavens!"
"Hito wa nanika wo nasu tame ni sei wo uke...Nashi oeta toki, shinde yuku..." - "People are given life to do something...and upon doing so, they die..."
The King of Fighters 2001
Edit
Win Quotes
Edit
"I am the chosen one. The leader of all!"
"I am nearly a god. No, wait. I am a god."
"All is predestined. You must realize that."
"No one knows my power. So it is for a god like me!"
"Boundless power! All are impotent before me."
"You thought you could win without your Kyokugen secrets?" (vs. Art of Fighting Team)
"So, Fatal Furies. Is warm-up all over?" (vs. Fatal Fury Team)
"Such weakness... Is that all your hate?" (vs. Hero Team)
"So, Heidern. Shall we draw up a treaty of defeat?" (vs. Ikari Team)
"My clones are superior to you, Kyo Kusanagi." (vs. Japan Team)
"Is justice but weakness? Try again, and again, and..." (vs. Korea Team)
"Over so soon, my pretty guinea pigs?" (vs. NESTS Team)
"That wasn't psychic power. Show me your true strength!" (vs. Psycho Soldier Team)
"We still have some time. Let's have some more fun." (vs. Women Fighters Team)
"Is that the extent of you power, Iori Yagami?" (vs. Yagami Team)
The King of Fighters 2002: Unlimited Match
Edit
Win Quote
Edit
"Praise me...for I am a god! Look upon my new world!"
Ad blocker interference detected!
Wikia is a free-to-use site that makes money from advertising. We have a modified experience for viewers using ad blockers

Wikia is not accessible if you've made further modifications. Remove the custom ad blocker rule(s) and the page will load as expected.