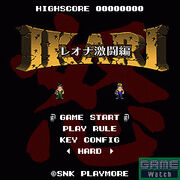 Ikari - Leona Gekitohen (怒 -IKARI- レオナ激闘編) is an action shooting cellphone application that was available for the Japanese i-mode networks. It was first made known to the public on July 31, 2006 and was up for download the following month. The story begins when the protagonists' plane is shot down by a mysterious enemy force. Under heavy fire from the opposition, they have no choice but to arm themselves for battle.
This title is essentially a cellphone version of the original Ikari Warriors but adds Leona as a new protagonist. Players can also play as Ralf and Clark and have the option to play using their Ikari or King of Fighters appearances. Like the original, these fighters will use grenades, machine guns, and tanks to pave their way through the stages. Players can be killed when their tank explodes (or runs out of fuel) and they can be hurt by the shock wave of their grenades. The newest gameplay addition is the ability to use some of their character's special moves on their enemies.
External Links
Edit
Ad blocker interference detected!
Wikia is a free-to-use site that makes money from advertising. We have a modified experience for viewers using ad blockers

Wikia is not accessible if you've made further modifications. Remove the custom ad blocker rule(s) and the page will load as expected.