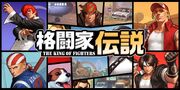 KOF98 Ultimate Match Online
(KOF 98 UM OL‎) is an officially authorized
SNK Playmore
mobile game by PlayHit Southeast Asia. It is a free-to-play, tactical RPG fighting mobile game based on
The King of Fighters '98 Ultimate Match
. The game first launched in 2014 in China. It currently has regional servers in China, Taiwan, South Korea, Japan, Vietnam, Thailand, Indonesia, Malaysia and Singapore. The Global English version just launched on May 16, 2017, which essentially covers all other regions in the world.
Players get to control a team of 6 fighters simultaneously and get to fight in various battles modes against NPCs and other players.
Battle Modes
Edit
Main Campaign - a series of story line stages that players progress through in the game, the higher the level, the better the rewards (requires 6SP, drops gems)
Elite Campaign - a harder version of the Main Campaign with fewer stages, but drops better items (requires 12SP, drops scrolls, fighter fragments, max 3 challenge chances per day or use Diamonds to reset)
Hell Campaign - the toughest campaign stages in the game (requires 12 SP, once off talent points, artifact source and other items after clearing)
Ultimate Trials - Continuously challenge stronger Fighters and fight your way up the floors for better rewards. Choose from easy, normal or hard opponents for each fight, with the harder fights giving you more 'stars' that can be used to purchase buffs for your team. Open Hidden Safes along the way and stand a chance to get some rare items. Fighters do not recover HP automatically and cannot be used in trials battles if it dies, until the trials progress resets the next day. Players will also accumulate points over time, of which they can claim special rewards for accumulating a certain amount of points. (Points = Total Points*8% + Today's Points)
Clone Battle - Rugal has made clones of world renowned fighters and is sending them to wreck havoc across the world. Players can team up together to defeat these clones and get their Fragments.
Gold Rush - Destroy a car with your hands and sell its parts for Gold
Female Fighters - A fight where players can only use their female fighters, win to collect cuisine boxes
Mirage Challenge - If players deploy the same fighters are the opponents, that specific enemy fighter will run away automatically and drop a fighter fragment. (Unlocks Lv.37, available Mon., Wed., Fri., Sun.)
EXP Rush - Destroy the vending machine and get as many EXP cola as you can. (Unlocks Lv.30, available everyday of the week)
Combo Challenge - A challenge where damage is not based on your fighters attack power but on how many combos you can do. (Available during special events)
PVP Battle Modes
Edit
Arena - Fight against other players in the Arena and see who is the strongest. Players have 5 free challenge chances everyday, while additional chances can be purchased using Diamonds. Small rewards can be claimed everyday according to the number of points players gain in the arena, including power fragments. Special ranking rewards will be sent to player's mailboxes at the end of everyday according to player's rank. Players will also gain Honor coins in this gameplay, which can be used to purchase rare items in the Honor Store.
Club Battle - Players in Clubs can partake in the Club battles and vie for the title of the strongest club. Players will fight against one another in a face off match and will gain 2 points for winning, 1 point for losing a match. Fighters can deploy a maximum of 6 fighters, which will not recover HP after each fight and be automatically matched against a new opponent after each victory until all the fighters are defeated. There are several battle modes, so all the fighters can be used

MON, Preliminary 1, Only Male Fighters
TUE, Preliminary 2, Only Female Fighters
WED, Quarter-final 1, Only DPS Fighter
THU, Quarter-final 2, Only TANK Fighters
FRI, Quarter-final 3, Only GANK Fighters
SAT, Finals, Top 8 (by points)
Cross-server Loot Battle - 2 servers are pit head on against one another in a battle to see which is the strongest server. Each ore spot on the mine represents a certain number of points, the higher the ranking, the higher the points. The server with the higher number of points will be crowned the winner and participating players from both servers will gain an ton of 'Energy' (a resource) at the end of the season, which can be exchanged for valuable items such as Rugal[Frag], Power Fragment, Esoteric Chest (Orange) etc.
Cross-server Tournament - Similar to the Tournament, but bigger and better, fighting against up to 4 other servers at the same time. Tournament rewards can be exchanged for K'[Frag], Yashiro[Frag], HUD Sunglasses[Frag].
Honor Battle - A mysterious man has opened up 12 Dojos. Players can fight against people from other servers to collect Constellation Dojo Badges to claim rewards and challenge for the title of the Honor King after collecting all 12 badges. Given that a players' power level matches the requirements of a specific Dojo, they can become a Dojo protector after successfully winning a challenge, and claim rewards
Peak Battle - This is a real-time gameplay where players will be matched against other players. Both players will take turns to select from a randomly selected roster of fighters into their team. A maximum of 4 fighters can be deployed at any one time and cannot be switched out in between. A player loses when there are no fighters left to be deployed or if all the deployed fighters die within 1 round. Players will Peak Battle Points from fights and over time based on their Peak Battle Rank, which can be used to exchange for rare items in the store.
Tournament - Players can register a maximum of 10 fighters, fighting in a 1v1 battle against other players for a maximum of 10 rounds in an elimination system battle. Players that loses 3 fights will automatically be eliminated from the tournament, until there are only 8 contestants remaining, hereafter players will face off against each other in a bracket elimination match in the Ultimate Fight.
In the Ultimate Fight, each side can send 3 fighters who will fight in a 1v1 system. There is no round limit and the match will only end after one side's fighters have all been defeated.
Players will get Gold Chest for winning a match and Silver Chest for losing a match, which can be exchanged for Fighter Fragments later in the game. Ranking rewards will be given out at the end of everyday. Players can also bet Gold on who they think will be the champion of the days tournament, and get a certain return of Gold coins depending on the odds. (Odds decrease as more players place their bet on the same player)
Game Features
Edit
Achievements - Players can claim additional priority through completing certain achievements
Artifacts - Artifacts can be cultivated using Artifact Source, which provide overall stat boost to all fighters. Higher level artifacts require meeting certain requirements such as team level, no. of purple fighters, total stars in campaign etc. to unlock
Bar - Players can spend Gold or Diamonds to draw items and Fighters here, this is the key feature for players to grow strong in the beginning of the game
Club - Fighters band together here to train and fight against other clubs

Lobby - Check club's key stats and fighters
Club Battle - Fight against other clubs, set club battle formation, exchange for fighter fragments from club battle loots
Club Challenge - Club members work together to defeat super strong Bosses to receive rare loot
Training House - Players can train their fighters 24/7 here
Billy's Stick - Mini-game where players can gain, Gold, Diamonds & Billy Fragments
Iori's Dice - Mini-game where players can gain Gold, Club Coins, Gold and Iori Fragments
Research Institute - Upgrade club features and mini-games here
Lucky Bag - Daily lucky bags give Gold, Diamond and Artifact Source
Esoterics - Each esoteric stone gives a slight boost when embedded on a fighter, and completing a specific set of esoteric stone can give an additional skill.
Hall of Fame - Players can feed food to their fighters here, which will given slight boosts to a fighters stats as well as increase their priority in a fight (the probability to attack first)
Quests

Daily Quest - Resets everyday and also gives players free SP in the morning, afternoon and evening, also where players can claim extra Diamonds when they have activated 'Benefits'
Main Quest - Quests that progress over time and give out small rewards
Statue Gallery - Buy statues to give boost to specific fighters. There are 5 types and 4 grades of statues for each character.
Stores - Purchase a variety of items here to upgrade fighters and strengthen items

Equipment Chest - open with Diamonds to get a variety of items. Awakening gem guaranteed after opening 10
General Store - basic gems and fighter fragments can be bought with Gold or Diamonds
Honor Store - Honor Coins from Arena can be exchanged for rare items
Trial Store - Trial Coins from Ultimate Trials can be exchanged for rare items
Club Store - Club Coins from club contributions and events can be exchanged for rare items
Talent Points - Talent points help to increase your fighter's attributes. There are various talent tree branches that allow players to focus on specific group of fighters, such as front row vs. rear row, DPS vs. GANK vs. TANK etc.
Fighter Upgrade Systems
Edit
Evolve - Collecting sufficient fighter fragments can evolve a fighter to the next star level, which significantly increases overall stats
Equipment - Each fighter has 4 pieces of equipment (weapon, jacket, pants, shoes) as well as a slot for badge and a slot for tomes. Each item can be upgraded individually to strengthen fighters power

Enhance - This increases the item level
Awakening - This improves the item quality, awakening certain weapons can also significantly improve Ultimate skills

Fightsoul - Significantly boosts a fighters abilities, sometimes even allowing fighters to use their ULT skills in the first round
Promote - Improve a fighters quality
Skill - Upgrade skills individually to boos the fighters small and ULT skill in battle as well as passive skills
Upgrade - Give EXP drinks to fighters to level up fighters quickly
Characters
Edit
Playable only in asian versions :
External Links
Edit
Ad blocker interference detected!
Wikia is a free-to-use site that makes money from advertising. We have a modified experience for viewers using ad blockers

Wikia is not accessible if you've made further modifications. Remove the custom ad blocker rule(s) and the page will load as expected.