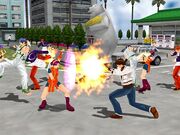 KOF world is the title of the homepage for the canceled online game, The King of Fighters Online. It was developed by the Korean company, Unotechnology (formerly known as Viccom) and Dec Company. The game was a 3D online fighting brawl where players could chat or perform their avatars' trademark moves on one another.
KOF Online was first announced sometime in late 2000 and leaks of character models were briefly posted over the net. Plans for an international release were made but eventually the game was scheduled to stay in Korea. An open beta service was made available for the Korean audience on April 15, 2003 and was planned to last until June. However, apparently due to poor reception, the beta ended early. The company wrote a statement about wanting to improve the game's quality for a better playing experience and simultaneously announced a beta for "The King of Baitos Online". Interests in the project seems to have fizzled out since the official website was taken down soon after. A patch and other upgrades were said to be in the works.
Recently, in 2007, the license for another King of Fighters Online adaption was given to the South-Korean developer, Dragonfly. It was given a tentative 2009 release and seems to be focused on being an online action RPG. It's unknown which saga this new game will be based on but it's speculated that it will improve the ideas from the dropped project.
Characters
Edit
External Links
Edit