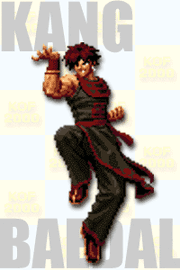 In this Korean name, the family name is Kang.
Kang Bae Dal (Hangul: 강배달, Hanja: 姜倍達, Katakana: カン・ベダル, Kan Bedaru) is a character first introduced in The King of Fighters 2000 as Jhun Hoon's another striker. Bae Dal is actually a prototype of Jhun Hoon; as such, he has no actual backstory. He may be named after the protagonist of Fight Fever, Han Baedal, but the more likely source is real-life karate master Mas Oyama's old nickname, Choi Baedal, which he used to show his Korean heritage.
He is voiced by Eiji Takemoto.
Tornado Attack - Bae Dal can fire a tornado projectile with a kick.
Fighting Style
Edit
His stance is similar to one Jhun's stances, so he should probably be a Taekwondo fighter as well.
Game Appearances
Edit
Cameo Appearances
Edit

Ad blocker interference detected!
Wikia is a free-to-use site that makes money from advertising. We have a modified experience for viewers using ad blockers

Wikia is not accessible if you've made further modifications. Remove the custom ad blocker rule(s) and the page will load as expected.