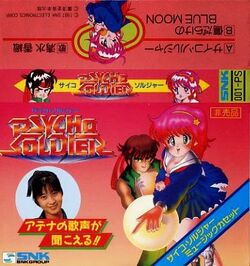 Kaori Shimizu (清水 香織, Shimizu Kaori?, born January 15, 1968 in Fujinomiya, Shizuoka) is a former Japanese idol notable for singing the theme song to the video game Psycho Soldier, the first video game with a vocal soundtrack. In 1991, she retired from show business to marry baseball player Kazuhiro Sasaki. They had a son and daughter together. They divorced on March 18, 2005 after Kazuhiro had an affair with actress Kanako Enomoto that resulted in Enomoto getting pregnant.
She is not the same person as the voice actress Kaori Shimizu (清水 香里).
Discography
Edit
Forbidden Heroine / August Lover, September Devil (6/21/1986)
26:00 Cinderella / TOY Box (10/05/1986)
Seductive Doll:Fire & Rain / Blue Prism (1/21/1986)
Psycho Soldier / Kizudarake no Blue Moon (6/05/1987)
Blue Letter / Un ange passe (10/21/1987)
Wondrous Peach Pie / Time Limit (8/01/1989)
References
Edit
Ad blocker interference detected!
Wikia is a free-to-use site that makes money from advertising. We have a modified experience for viewers using ad blockers

Wikia is not accessible if you've made further modifications. Remove the custom ad blocker rule(s) and the page will load as expected.