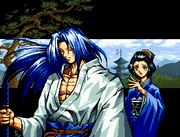 Kei Odagiri (小田桐 圭, Odagiri Kei) is a secondary character in the Samurai Shodown series. She is the lover of Ukyo and is affectionately called, "Okei-dono" or "Kei-dono" by him. In return, she addresses him as "Ukyo-sama". Due to her status as a high-class noblewoman and his terminal illness, Ukyo keeps his distance from her. Regardless, they still hold deep feelings for each other.
She is voiced by Akiko Yagi.
Appearances
Edit
Ad blocker interference detected!
Wikia is a free-to-use site that makes money from advertising. We have a modified experience for viewers using ad blockers

Wikia is not accessible if you've made further modifications. Remove the custom ad blocker rule(s) and the page will load as expected.