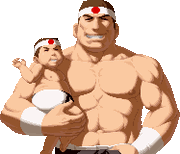 Kogoro Daimon (大門 虎五郎, Daimon Kogoro) is a character in the The King of Fighters series of fighting games. He is voiced by Eiji Yano.
Kogoro is the son of Goro Daimon and Jokyojo. Despite of his young age, his father is already teaching him in the way of Judo and he is learning very fast. Kogoro idolizes his father, often mimicking his moves and poses.
Game Appearances
Edit
Ad blocker interference detected!
Wikia is a free-to-use site that makes money from advertising. We have a modified experience for viewers using ad blockers

Wikia is not accessible if you've made further modifications. Remove the custom ad blocker rule(s) and the page will load as expected.