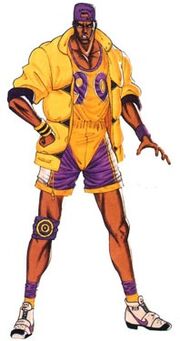 Here is a list quotes for Lucky Glauber.
In Battle
Edit
"Ouch!"
King of Fighters 94
Edit
Win Quotes
Edit
"We outweigh nuclear arms." (Vs. Brazil)
"You are no match for us." (Vs. China)
"Challenge us again anytime!" (Vs. England)
"We are the strongest!" (Vs. Italy)
"Are you really the No. 1?" (Vs. Japan)
"Much easier than I expected!" (Vs. Korea)
"My karate was superior, huh?" (Vs. Mexico)
"We are seasoned fighters!" (Vs. USA)
King of Fighters 98
Edit
Win Quote
Edit
"Wake up!!! It's too early for bedtime."