Welcome to SNK Wiki
This is SNK Wiki, a project that was created for fans of the games developed by the Japanese company
SNK.
If you have anything you'd like to share with us about the company,
feel free to help
!
¡Los fanáticos en español pueden visitar este wiki
aquí
!
1,778 articles since February 2008.
Contents
Featured article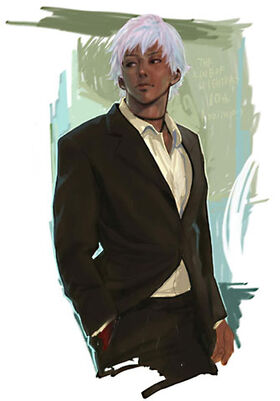 K' (K' (ケイ・ダッシュ), Kei Dasshu, pronounced as "K Dash"), sometimes known as "K Prime", is a character who debuted as the leader of the Hero Team in The King of Fighters '99. He stars as the reluctant hero in the NESTS saga of the series, often letting his partner Maxima handle any social necessities in his stead. To contrast the previous protagonist of the series, K' was made to be the "dark hero".
The origins of both K′ and Maxima can be found in the Psikyo arcade game The Fallen Angels (堕落天使, Daraku Tenshi in Japan). This obscure 1998 release stars an emaciated goth in tight leather pants named Cool, along with a brawny, cybernetically enhanced US Marine named Harry Ness. The man responsible for the design of both characters, Shin'ichi Morioka, migrated to SNK shortly after The Fallen Angels was released, and elements of Cool and Harry Ness' design were used in the creation of K′ and Maxima. The end result is that K′ looks nearly identical to Cool. His namesake was taken from a clone character in the light novel Blue Knight Berserga Monogatari (青の騎士ベルゼルガ物語), which is set in the same universe as the anime series Armored Trooper Votoms. During the early phases of development of The King of Fighters '99, K′'s introduction to the series was meant to remove popular characters Kyo Kusanagi and Iori Yagami from the roster, though this idea was later scrapped.
Helping out
To write a new article, just enter the article title in the box below.
Not sure where to start?
Adding content
Talk and more...
Check out the community portal to see what the community is working on, to give feedback or just to say hi.
What's new on SNK Wiki
November 2017
Saudi female character "Najd", and fighting stage are confirmed to be appearing in The King of Fighters XIV.
A Saudi female artist's design for a Saudi female character won a competition to appear in an upcoming KOF.
October 2017
8 more SNK classics were added to GOG.com's catalogue, DRM-free!
September 2017
The King of Fighters XIV is held as a demonstration sport at this year's Asain Indoor & Martial Arts Games on Sept 25-27. http://ashgabat2017.com/esports
SNK opens their own online shop: https://www.snk-onlineshop.com
August 2017
3D Animation: The King of Fighters: Destiny Episode 1 & 2 are available for viewing on Youtube
May 2017
15 SNK Neo-Geo classics are now available DRM-Free on GOG.com!
Nintendo Switch™ ACA NEOGEO series achieves over 200,000 downloads worldwide!
February 2017
SNK announced The King of Fighters XIV World Championship (WCS). The grand finals were held in Tokyo on February 18. An archived live steam of the finals is available on their Twitch.
April 2016
SNK Playmore is now SNK and will be reusing its older logo and motto.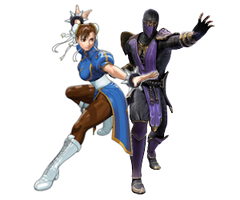 Fighting Games
Go to these sites for info or for help with your own wiki!
Bloody Roar • Capcom • Darkstalkers • Guilty Gear • Injustice: Gods Among Us • Killer Instinct • Mortal Kombat • M.U.G.E.N • Punch-Out! • Rise of the Robots • Skullgirls • Smash Supreme • SNK • Soulcalibur • Street Fighter • Super Smash Bros. • Tekken
Want your community included? See how!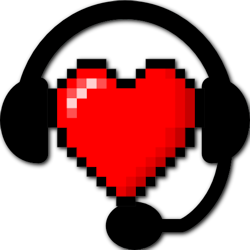 General Gaming
Go to these sites for info or for help with your own wiki!
Capcom • Game Ideas • Humongous Entertainment • JumpStart • Koei • Nintendo • Nitrome • SEGA • SNK • Steam Trading Cards • Tamagotchi
Want your community included? See how!

Ad blocker interference detected!
Wikia is a free-to-use site that makes money from advertising. We have a modified experience for viewers using ad blockers

Wikia is not accessible if you've made further modifications. Remove the custom ad blocker rule(s) and the page will load as expected.