Welcome to SNK Wiki
This is SNK Wiki, a project that was created for fans of the games developed by the Japanese company
SNK.
If you have anything you'd like to share with us about the company,
feel free to help
!
¡Los fanáticos españoles de KOF deben visitar este wiki
aquí
!
1,398 articles since February 2008.
Contents
Featured article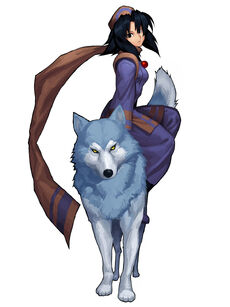 Rera (レラ, Rera), whose name means "wind" in Ainu, is a character in the Samurai Shodown series. She is based on the alternate palette swap of Nakoruru (noted for her evil grin during her victory images since Samurai Shodown). The developers admit basing her mannerism on Nakoruru's "Rasetsu/Bust" form, a different shade of the girl that appears to predominately have her own persona in Samurai Shodown 64-2, and whose P2 palette (violet, orange-trimmed) served as base for Rera's costume (violet with peach colored trim) costume. Seiuchi adds that her stoic yet forceful nature in the Nakoruru ADV game was inspired by Basara and Kagaribi's tragic story.
The "Rasetsu/Bust" form of Nakoruru often feels unashamed in her victories and wasn't afraid to tempt others to do "the easiest thing", such as abandoning the conflict or pitting good comrades against one another. In the first OVA for the series, people aside from Nakoruru are able to see and talk to her, featured as a separate unexplained being resembling Nakoruru. Like a trickster in plays, she disappears and enters as she pleases, usually to "play" with another person that Nakoruru holds dear. She even threatened to kill her other half if her way didn't succeed. It is said that Nakoruru suppressed this side of herself as it saw killing as a necessity to protect nature.
Helping out
To write a new article, just enter the article title in the box below.
Not sure where to start?
Adding content
Talk and more...
Check out the community portal to see what the community is working on, to give feedback or just to say hi.
What's new on SNK Wiki
December 2014
August 2014
SNK Playmore is suing Square-Enix for copyright infringement found in one of their Big Gan Gan comic serializations, High Score Girl, a story about a boy gamer and his crush on the girl who beat him at his favorite games. The SNK Playmore representative claims characters and gameplay elements of Metal Slug Defense were used in the narrative without prior written consent, a stark contrast to the comic's previous collaborations with Capcom, Sega, and Bandai-Namco. Square-Enix has yet to issue a public reply. The PDF explaining the legal issue is the August 6, 2014 Press Release document on SNK Playmore's Japanese website.
April 2014
November 2013
The King of Fighters 97 has been released for iOS and Android.