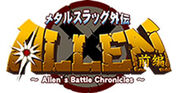 Metal Slug Gaiden: Allen's Battle Chronicles (メタルスラッグ外伝~Allen's Battle Chronicles~) is a run and gun mobile game released by SNK on February 20, 2006 for the Japanese imode. It was one of the titles created to celebrate the 10th anniversary of the Metal Slug series.
The title is a spin-off of the series that takes place after the six stages in the first game. Players pave their way through Morden's army and the Peregrine Falcon squad as Allen O'Neil. The goal is to save General Morden from the game's final boss, Marco Rossi. The game has three stages from the Metal Slug games and has three difficulty modes (Easy, Normal, Hard) for the players to enjoy. A second part of the game was also made to include three more stages. Players can also post their scores on-line and compete for the highest score.
External Links
Edit
Ad blocker interference detected!
Wikia is a free-to-use site that makes money from advertising. We have a modified experience for viewers using ad blockers

Wikia is not accessible if you've made further modifications. Remove the custom ad blocker rule(s) and the page will load as expected.