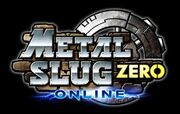 Metal Slug Online Zero was an upcoming online multiplayer game for the Metal Slug series. The developer is the South Korean based company, Dragonfly, who is best known for being one of the co-developers for Quake Wars Online. They first received permission for the project on July 19, 2007. They also gained the licenses for the online versions of The King of Fighters and Samurai Shodown.
The game was going through beta stages and was scheduled to be released in 2009 before being canceled.
The following is a verbatim copy of the story listed on the official page's English site:
Metal Slug Online starts its story right after end of its previous series, 3 years after the year 2032.
Derived rage from loss of his son and defeat from series of battles has taken away what is left on his rationalities. Moden finally decided to bring an end to the world for his revenge. His furious anger made him to quit endless and tiresome battle with people, and him to start to look for an extreme way to resolve the situation and his plan. And finally, he found a way. He is now planning to bring destruction of human race by devastating the environment of earth.
Just like people say, 'When it rains, it pours.' While Moden and his army planning this horrific strategy, remnants of previously defeat villains, such as Martian, Plutonian and Ptolemaeos, still pose a threat to the planet.
After viewing and experiencing the world war and Alien attack, all nations have gathered and made a decision to create the united army of earth, and as time goes by, they are putting more and more resources to this region of last defensive force of human race. Because of its exponentially increase in budgets, rumors that new recruitment will soon be arrived in 'Pel-green Falcons' and 'Sparrows' which were neglected by many soldiers due to their high risk missions and excessive tasks are spreading around the army.
The game will be in 3D but the gameplay will still be in side-scrolling form. Marco, Tarma, Eri, and Fio are playable though new characters are also in the works. Four people are able to play simultaneously in a game. New enemies are to be included as well.
All items will be able to be collected as cards and stored in a cardbook called "Metal Book", which will be ranked depending on how many cards that the player has collected from levels F from the lowest to A at the highest. When 100% is reached at level A, the player will be able to proceed to the next episode and access newer systems and contents, while the rank is reset to F. This process will be repeated for player advancements.
Characters
Edit
External Links
Edit