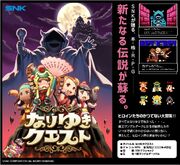 Nariyuki Quest is an official webcomic series published by SNK. It was initially started off as an April Fool's joke as a 2D sprite-based RPG but later got adapted into a 6 volume parody webcomic. The first chapter was released on April 6, 2017.[1]
Synopsis
Edit
It all began hazardously...
Here are all women fighters representing SNK, imprisoned by the demon Sandel Dark.
Right here right now, a heroine conflict that will end no-one knows where, is about to start...
What is the purpose of Sandel Dark? What is the heroines fate?
Characters
Edit
Main characters
Edit
External Links
Edit
Reference
Edit
Ad blocker interference detected!
Wikia is a free-to-use site that makes money from advertising. We have a modified experience for viewers using ad blockers

Wikia is not accessible if you've made further modifications. Remove the custom ad blocker rule(s) and the page will load as expected.