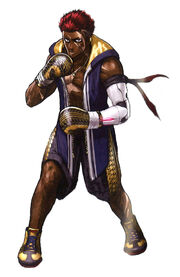 Here is a list of quotes for Nelson.
The King of Fighters XIV
Edit
Character Select Screen
Edit
"Appu kanryou, ikuze!" - "Preps completed, let's go!"
"Atsuku sasete-kure yo!" - "I'm gonna light things up!"
"Ore ni makasero!" - "Just leave it to me!"
In Battle
Edit
"Kakugo shina." - "Get ready." (Intro)
"Nemure!" - "Sleep!"
"Tanomu ze, aibou!" - "I'm counting on you, buddy!"
"Ore no kobushi, subete mikiru ka?" - "My fists, can you keep up with them all?"
"Kono kobushi de shouri wo tsukamu!" - "I'll grasp victory with these fists!"
"ORAORAORAORAORAORA!"
"Ore no zenryoku, yakuu!" -"I'm goin' all out, moron!"
"Yatta ze, aibou!" - "We did it, buddy!"
"LIIIIIIIICCIAAAAAAAAAAAAAAAAAAAA!!!"
"Kusottare..." - "Shithead..." (kneeling KO)
"Sonna koto de!" - "For such a thing to happen!" (KO)
"Maji ka?!" - "Seriously?!" (final KO)
Pre-Battle Dialogues
Edit
Joe Higashi
Joe: "Oh, the hot-blooded boxer! Don't you kick at all?"
Nelson: "My legs are the powerful engines for my punches. I don't need to kick."
Joe: "You talk a lot. But I've knocked out many a boxer like you."
Nelson: "I know. Your success is the real thing. But there's one thing I'll say. You can't get past me."
Joe: "C'mon!"
King of Dinosaurs
Dinosaur: "This is the moment I'm here for... To destroy YOU, I was reborn, and now I have my chance!"
Nelson: "Huh?"
Dinosaur: "This body of mine is covered in scars... But every time I see them, I am overtaken by shame."
Nelson: "What the hell are you talking about?"
Dinosaur: "I have cast aside my past, now have a good taste of my prehistoric power!"
Nelson: "Ah! Could it be... Are you Tizoc?!"
Dinosaur: "Aaagggghhh!"
Maxima
Maxima: "Hey, you, how'd you get that arm?"
Nelson: "Why are you asking me that all of a sudden? A nice company took care of it. Don't try and accuse me of anything weird."
Maxima: "...No way."
Nelson: "What is it, you're a robot, right? You got a bug?"
Maxima: "Shut up."
Nelson: "Hm? You're the one asking, aren't you?!"
Maxima: "I'll have to look into it afterwards."
Win Quotes
Edit
"Those punches are limp-wristed! Come back after you've worked on your hips!"
"You're strong. Let's have another bout!"
"Wanna go one more round?"
"We gave all we had! Ah, that feels great!"
"If you go down that fast, you're not even as good as a punching bag."
"You're out of steam. You have to pace yourself more."
"That felt awesome! You're the best!"
"You'll get hurt if we go any longer, so I'll stop."
"Whew, I'm tired... Feels like I went a full 12 rounds..."
"Hey, isn't it a little early to sink into the mat?"
"Your moves got no style. If you can't manage your own body, you're no pro!"
"I can't lose. I have an important burden."
"You look groggy. You should take a nap."
"Thanks for warming me up!"
"This win is for Liccia..."
"I thought I'd wear out first."
"I'll be even stronger tomorrow!!"
"Wanna go again? Alright, I think I'm stronger now than I was before!"
"Brr, it's a little chilly."
"You shouldn't get up yet. Your brain got really shook up."
"I hit you with everything I had. You probably won't get up for a while."
"Sorry. Even I have things I can't give up on."
"Alright, I'm feeling good! Let's keep going!"
"Not yet... This isn't it... I'm going even higher!"
"That was a good experience. Thanks!"
"If you want a rematch, I'll take you anytime!" (vs. Antonov)
"I don't know much about ninjas, but I know you're a weird one." (vs. Bandeiras)
"When you use a weapon as just a weapon, you can't beat me." (vs. Billy)
"Even if you wear thick blubber armor, it's meaningless against my punches." (vs. Chang)
"It's been a long time since I've had an opponent that worried me at close range." (vs. Daimon)
"I was almost more scared of your enthusiasm than your kicks." (vs. Gang-il)
"Your chilling, all-out instinct wasn't bad. If we meet again, let's fight!" (vs. Iori)
"Your kicks weren't bad... But this guy's all I need to get to the top!" (vs. Joe)
"You have a real "I'm still getting stronger" vibe. I'll forward to next time." (vs. Kensou)
"My punches and your kicks. It was a good bout." (vs. King)
"You have some fine wings. Too bad they couldn't help you out!" (vs. King of Dinosaurs)
"I think you should get some maintenance before you turn to scrap. Should I recommend a good place?" (vs. Maxima)
"I've been doing too much focus mitt training... I almost only went for your pillow." (vs. Meitenkun)
"I looked closely, but i couldn't see the mask change. Just how do you do that?" (vs. Mian)
"You smart, strong guys are serious trouble..." (vs. Ralf)
"No matter how strong you are, you can never dodge a boxer's punch with one eye." (vs. Ramon)
"That was close, but my combos were better than your heavy strikes." (vs Ryo)
"That's the last time I fight you. Those shocks are no good for my arm." (vs. Sylvie)
"That was a match I could never enjoy in pro boxing. This will make me even stronger!" (vs. Vanessa)
"If my punches connect, I'll win against any opponent." (vs. Verse)
"I've seen plenty of washed-up boxer thugs... You don't seem like one of them." (vs. Yamazaki)
"Spinning around, flying and jumping... You're a funny one." (vs. Zarina)