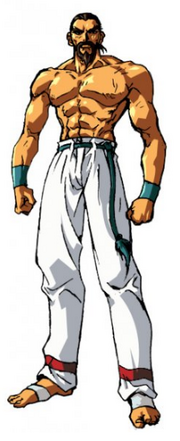 This list is incomplete. You can help improving it by editing!
In Battle
Edit
Fatal Fury
Edit
Win Quotes
Edit
"I'll give you one more chance because your a wimp."
"You can't get away from me. Your end is near. Ha ha!!"
"Ha ha, did you see the power of Kaporeal?"
The King of Fighters: Maximum Impact 2
Edit
During Pao Pao Shower
Edit
Match Start
Edit
"Soon you will appreciate the harmonic complexity of capoeira."
Pre-Battle Dialogues
Edit
Terry Bogard
Terry: "Hey! Finally back in the game there, Richard?"
Richard: "Heh! Isn't it about time to pay off your bills?"
Win Quotes
Edit
"How about that! I'm still pretty damn good, huh?"
"You just don't get the exquisite rhythm of capoeira. Too bad!"
Ad blocker interference detected!
Wikia is a free-to-use site that makes money from advertising. We have a modified experience for viewers using ad blockers

Wikia is not accessible if you've made further modifications. Remove the custom ad blocker rule(s) and the page will load as expected.