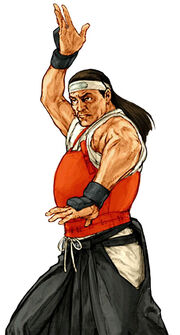 This list is incomplete. You may help improve it just by editing!
In Battle
Edit
Art of Fighting
Edit
Pre-Battle Dialogue
Edit
Ryo Sakazaki
Todoh: "Hmm... He is here."
Ryo: "Tell me where my sister is!"
Todoh: "Ask for it with your power!"
Robert Garcia
Todoh: "Hmm... He is here."
Robert: "Hey mister! Where's Yuri?"
Todoh: "Ask for it with your power!"
Win Quotes
Edit
Story Mode
"You have no ability. Try again!"
VS Mode
"No one's as strong as me. What a bummer!"
Lose Quote
Edit
"I don't know where she is. Jack at "Mac's Bar" might know."
Before Finals
Edit
"I am ready for this fight! I know that I wiil win!"
Win Quotes
Edit
"That was disgraceful! Put your mind into your moves!"
"Win or lose is fine! Just never give up!"
"Hard work is needed to make a real difference in your life!"
"You need to master more than one move in order to win!"
"The way of martial arts is tougher than you thought, huh?"
"Fear can never defeat the power of wisdom!"
"You thought I was weak, but now you see that I am strong!"
"Basic techniques are the key to the power of "Kasaneate.""
Ad blocker interference detected!
Wikia is a free-to-use site that makes money from advertising. We have a modified experience for viewers using ad blockers

Wikia is not accessible if you've made further modifications. Remove the custom ad blocker rule(s) and the page will load as expected.