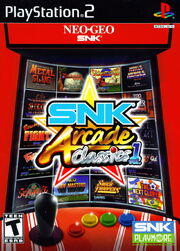 SNK Arcade Classics Vol. 1 is a video game compilation published by SNK Playmore which includes sixteen of their earlier Neo Geo games which are now believed to be very difficult to find.
The compilation was released on the PlayStation 2, PlayStation Portable, and the Wii. Several of the included games have been previously individually released via the Wii Virtual Console. Loading issues have been addressed for the Wii disc release.
Between the three versions, the Wii version is considered the definitive one. The PS2 and PSP versions had considerable amounts of slowdown (especially with Shock Troopers on the PSP), compared to the slowdown-free Wii version. The Wii version also supported 480p and 4 different control schemes.
Each game also comes with 8 challenges that when completed award the player with a Medal, getting Medals unlock Comcept Art, Music, Movelists and the final game of the compillation World Heroes.
Games Included Wii & PS2
Edit
PSP version
Edit
Sasuke vs. Commander
Bermuda Triangle
HAL 21
Marvin's Maze
Gold Medalist
Super Championship Baseball
External Links
Edit
Ad blocker interference detected!
Wikia is a free-to-use site that makes money from advertising. We have a modified experience for viewers using ad blockers

Wikia is not accessible if you've made further modifications. Remove the custom ad blocker rule(s) and the page will load as expected.