SNK Heroines: Tag Team Frenzy

Flyer, showing Athena, Kula & Kukri. Illustration by Ogura
Developer(s)
SNK, Abstraction Games (Nintendo Switch, Steam)
Publisher(s)
SNK, NIS America (Nintendo Switch, PS4), Taito (Arcade), Valve (Steam)
Release date
Nintendo Switch & PlayStation 4
JP September 6, 2018
INT September 7, 2018
Arcade
JP TBA
Microsoft Windows
Steam:
WW TBA
Genre
Fighting game
Game modes
Single-player, multiplayer
Platform(s)
Nintendo Switch, PlayStation 4, Arcade, Microsoft Windows
SNK Heroines: Tag Team Frenzy (SNKヒロインズ Tag Team Frenzy) is a 2.5D 2-on-2 tag team fighting game and a spiritual successor to SNK Gals' Fighters which also feature various female heroines from the SNK universe.
SNK Heroines: Tag Team Frenzy is a 2-on-2 fighting game and can have up to four players clashing in either local play or online.
Utilizing the Spirit Gauge, players can activate Special Moves with a single button, and make use of special items to change the tide of battle. When the Spirit Gauge is low, attacks will be weaker, so players can swap between characters. When enough health has been chipped away from an opponent and their Life Gauge is red, players can use their Dream Finish technique to win the match.
SNK Heroines: Tag Team Frenzy allows spectating of other battles online, and allows viewers to wage on who they think will win using in-game points. Winnings can be used to buy voice clips and over 140 accessories in an all-new costume system, to customize heroines. Each heroine has three base costume choices that can be further accessorized and four different voice sets. Accessories include everything from hats to wings. While these costumes can be used in battles, players can also have their heroines pose for photoshoots with special backgrounds and stamps.
Extra online game functions include Quick Play (can also earn in-game currency here) and an 8-player Room Match.
Characters
Edit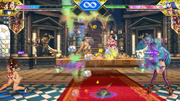 Grand Hall: The hall of the castle where the fighters are imprisoned. Can be seen a red carpet, banners, stained glasses, candelabra, pillars and statues statues referencing Kukri.
Passageway: A white hall. Can be seen statues, sunlights, chandeliers, chairs, pillars, a big door and wind roses in the floor, besides a portrait of Kukri's win pose in The King of Fighters XIV.
Courtyard: A balcony, in a sunset. Statues and flower arrangements decorate the stage. Also can be seen doors and pillars.
Dining Room:
Library:
External Links
Edit