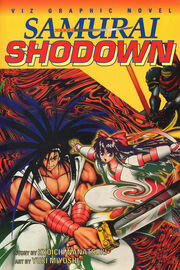 Samurai Shodown (サムライスピリッツ -魔界武芸帖-, Samurai Spiritsu -Makai Bugeicho-) is a 206 paged, single volume manga that takes place during the events of Samurai Shodown and before Samurai Shodown II. The graphic novel was produced by writer, Kyoichi Nanatsuki, and artist, Yuki Miyoshi. It was first published in Japan by Shogakukan in its Shounen Sunday magazine in July 1994. It later had a serialized run in the now discontinued Game On! magazine and finished in Animerica. It was then compiled and published into novel form by Viz Media in August 1997.
It establishes an original character, Yui Minbunosuke Shosetsu, as the main antagonist. Game characters Haohmaru, Nakoruru, Hanzo, Charlotte, and Genan remain the focal characters to the plot. They often interacted with several original characters in the story; the most prominent perhaps is the Koga kunoichi, Nagiri, who believed Haohmaru had killed her father during his travels and sought to avenge him.
Ad blocker interference detected!
Wikia is a free-to-use site that makes money from advertising. We have a modified experience for viewers using ad blockers

Wikia is not accessible if you've made further modifications. Remove the custom ad blocker rule(s) and the page will load as expected.