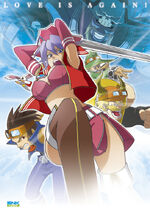 Sky Love 2: Sky's Reunion (スカイラブ2~再会の空~, Sky Love 2 Saikai no Sora) is a Japan-only pachinko slot machine that was developed by SNK-Playmore. This title is dedicated to fans of the first title as it will expand on the game's universe and characters. Developers promised that the game will feel like an upbeat anime experience. It was released in pachinko parlors on April 6, 2009. The game's main image song is titled "Wish" performed by Hiromi Kajiwara.
Love Heart had avenged her father and defeated Skull D Falcon in a fateful duel. However, it wasn't long before another Falcon took his place. In mere months, he conquered most of the world's continents and subjected them to his tyranny. Resurrected with a new evil energy, he seems unstoppable. Love and her crew band together with the struggling resistance to restore order and rightfully settle the score.
Characters
Edit
Peace Sky Pirates
Edit
Earth Justice - Young recruit whose mother knew and Love's mother when they were younger. Lost his mother when he was 12. Love's childhood friend who saved her from a wild dog when they were younger; has a crush on Love. Serves as the ship's patrol.
Raiko Tanaka - Crew's sorcerer and fortuneteller. He will use his magic to guide Love on her journey. He also has an older brother named Raijin.
Zack Meat - Caretaker of the ship and the crew's muscle man. He has a hard time taking care of himself so Love usually orders him to go on a diet.
Demon Sky Pirates
Edit
Neo G Falcon - Antagonist and captain of the Gigante. He was resurrected from his previous defeat and now seeks revenge. He is bigger and stronger than before.
Monica Gold - Lady sharpshooter and cocky brawler. Tanned skin with blond hair and Love's rival. Previously traveled with a group of pirates but slaughtered them all to become Falcon's number two.
Jackal Kal - A wild white-haired man who likes to carry around knives. Usually Earth's rival. His origins remain unknown.
External Links
Edit