The King of Fighters '94

Cover of Neo Geo CD version, showing Hero and Fatal Fury Teams. Illustration by Shinkiro
Developer(s)
SNK, D4 Enterprise, (Wii Virtual Console), Hamster Corporation (PS4, Xbox One, Nintendo Switch), M2 (PS Network)
Publisher(s)
SNK, Hamster Corporation, D4 Enterprise
Release date
Arcade
JP August 25, 1994
Neo Geo
JP October 1, 1994
Neo-Geo CD
JP November 2, 1994
Wii Virtual Console
JP November 6, 2007
NA January 7, 2008
EU November 23, 2007
PlayStation Network
WW December 21, 2010
PlayStation 4
WW October 27, 2016
Xbox One
WW March 9, 2017
Nintendo Switch
WW March 16, 2017
Genre
Fighting game
Game modes
Up to 2 players
Ratings
Wii Virtual Console
Teen (ESRB)
12 (PEGI)
B (CERO)
PlayStation Network
Teen (ESRB)
PlayStation 4 & Xbox One
Teen (ESRB)
Platform(s)
Arcade, Neo Geo, Neo-Geo CD, PlayStation Portable, Wii Virtual Console, PlayStation Network, PlayStation 4, Xbox One, Nintendo Switch

The King of Fighters '94 (or just KOF 94) was the first game from the The King of Fighters series, and was released in August, 25, 1994 for the SNK Neo Geo systems (AES, MVS and CD). This game featured characters from earlier SNK games, such as Fatal Fury, Art of Fighting, Ikari Warriors and Psycho Soldier. It also included new characters such as the Japan Team (or Hero Team) and the USA Team. The major innovation in KOF 94, comparing to the fighting games at that time, was the 3-on-3 team battle system, where each player uses 3-characters team instead of the 1-on-1 from the other fighting games. So the game roster was divided in teams of 3, each team representing one country.
In 2004, SNK Playmore released a remake of KOF '94, called The King of Fighters '94: Rebout on the Playstation 2, but the game wasn't released outside of Japan. In 2008, The game was included as part of SNK Arcade Classics Vol. 1. The game was released for PlayStation 4 as part of the line "ACA Neo Geo" developed by Hamster Corporation.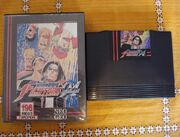 The official story given by SNK is as follows:
"The year, 1994. Once again the invitations to the King of Fighters find their ways to the world's most wicked warriors. But the patron of this little party remains unknown. It cannot be Geese, nor can it be Krauser. So who could they be from...? Among all the hopes and doubts, the legendary superstars of the fighting world begin to form their mighty teams. What type of battle with these magnificent fighters sure to go down in history show us? The voltage of the fan's excitement reaches a fevered pitch as the tournament finally approaches its beginning."
Rugal Bernstein, an influential black market weapons and drugs dealer bored of the lack of competition, sent out 24 invitations to certain individuals around the world. Eight teams had entered, each representing a different country.
At the tournament's conclusion, Mature, Rugal's personal secretary, invited the Japan team to fight their final match within Black Noah. It is there when Rugal revealed the true purpose of his tournament: defeat the winning team and add them to his grisly collection of previous challengers. Kyo sees his defeated father there and decides to avenge him. As Rugal is finally beaten, he triggers the self-destruct mechanism on his ship. The team escapes and reflects on their victory.
Development
Edit
In an interview with veteran developers of the series -which included C.A.C Yamasaki and Mitsuo Kodama- they claim that their prototype version for KOF was going to be a side-scrolling beat 'em up titled Survivor. In this version, it would only use core characters from the Art of Fighting and Fatal Fury series, specifically allowing players to play characters like Robert Garcia and Terry Bogard for location testing. However, the idea was eventually abandoned. Since they were attached to the idea of the two series cross-over, they eventually agreed to make their idea into a fighting game. Characters from Ikari Warriors and Psycho Soldier games were also added in spirit of other gaming genres considered for their final product. The concept of a three-man team was one of the ideas kept from the side-scrolling version.
Flagship director, Toyohisa Tanabe, asserts that the Art of Fighting and Fatal Fury fighters were added specifically for adults. The newer KOF characters were aimed to appeal to younger and newer audiences. He adds that every original character for the series is added based on the developers' strong desire to make one. For example, he agreed to include characters such as Benimaru and Chang to add an off-beat variety to the cast, which he previously deemed to be too serious before.
Although Kyo was developed to be the main protagonist of the franchise, the game's primary focus was to create a dream match between Fatal Fury and Art of Fighting (respectively basing KOF '94 on Fatal Fury Special and Art of Fighting 2). These contradictory ideals eventually lead to the concept that the player decided who the "true" protagonist was for this year. Kyo's role in the series was emphasized in the following year.
Since this game is some kind of crossover, the gameplay shares some similarities with SNK's fighting games. Instead of one-on-one fights, the system includes battles between teams of three people in a tag-team fashion. If one of the members is defeated by one of the other team's members, the next member will come in to fight the winner, and will go on until all three members of one team is defeated.
The gameplay utilizes elements from Fatal Fury such as the infinite special moves and Desperate Moves (DM) when your lifebar is in the low, and the dash. From Art of Fighting it borrows the abilities to charge your special meter, and unleash a DM when your special meter is full. KOF 94 also features a sidestep system. By pressing A+B the player will dodge. When your lifebar is flashing red, and your special meter is at max, the player can unleash a super move.
Characters
Edit
Old Characters (from earlier SNK franchises):
New Characters:
Japan: A viaduct next to a Neo Geo headquarters, in Osaka. Can be seen people cheering, buildings, veichles, obstacles and guards. The fight takes in a crosswalk. Associated with the Hero Team.
External Links
Edit
Ad blocker interference detected!
Wikia is a free-to-use site that makes money from advertising. We have a modified experience for viewers using ad blockers

Wikia is not accessible if you've made further modifications. Remove the custom ad blocker rule(s) and the page will load as expected.