The King of Fighters '95

Cover of the Neo Geo CD Version showing Kyo. Illustration by Shinkiro
Developer(s)
SNK, Gaibrain (Game Boy), Hamster Corporation (PS4, Xbox One, Nintendo Switch)
Publisher(s)
SNK, Nintendo, Takara (Game Boy), Sony Entertainment (PS1), Hamster Corporation
Release date
Arcade
JP July 25, 1995
Neo Geo
JP September 1, 1995
Neo-Geo CD
JP September 29, 1995
NA 1995
Sega Saturn
JP March 28, 1996
PAL 1996
EU July 10, 1997
Game Boy
JP April 26, 1996
NA April 25, 1996
EU 1997
PlayStation
JP June 28, 1996
NA August 31, 1996
EU June 1997
PlayStation Network
JP May 30, 2007
NA July 19, 2011
Wii Virtual Console
JP December 1, 2009
NA April 26, 2010
PAL April 30, 2010
Xbox One
WW March 30, 2017
PlayStation 4
AS April 27, 2017
NA May 11, 2017
EU May 16, 2017
Nintendo Switch
WW October 12, 2017
Neo Geo Mini
AS TBA
WW TBA
Genre
Fighting game
Game modes
Single-player, Versus-player
Ratings
Game Boy
Kids to Adults (ESRB)
PlayStation
Teen (ESRB)
12 (USK)
M15+ (OFLC Australia)
Sega Saturn
12 (USK)
15+ (ELSPA)
Suitable for All Ages (Sega)
Wii Virtual Console
Teen (ESRB)
PlayStation Network
Teen (ESRB)
PlayStation 4 & Xbox One (ACA Neo Geo Version)
Teen (ESRB)
Platform(s)
Arcade, Neo Geo, Neo-Geo CD, Sega Saturn, PlayStation, Game Boy, PlayStation Network, Wii Virtual Console, PlayStation 4, Xbox One, Nintendo Switch, Neo Geo Mini
The King of Fighters '95 is the second game in The King of Fighters series. It's also the first game in the series to be ported to other home consoles besides the Neo Geo AES and Neo Geo CD, with versions released for the PlayStation and the Sega Saturn in 1996. The PlayStation version was published in North America and the PAL region by Sony Computer Entertainment Inc., while the Saturn version (which required a ROM cartridge that came packaged with the game disc) was only released in Japan and Europe by SNK. A Game Boy game based on The King of Fighters '95 was also released. A possible bootleg Famicon release, mistakenly titled "The King of Fighters '99", was also made. This game is the first chapter of the story arc "Orochi Saga".
The gameplay of King of Fighters '95 was left largely intact from King of Fighters '94. The one major change SNK was to allow players to select any combination of characters to fight with, as opposed to the concrete teams that players were confined to in the previous game. In addition, almost all the teams from the first game returned, but were no longer affiliated with specific nationalities. The Sports Team from the previous game was replaced by a Rivals Team, composed of Iori Yagami (a new character designed to be Kyo Kusanagi's rival), Billy Kane (bodyguard of Terry Bogard's rival, Geese Howard) and Eiji Kisaragi (Ryo Sakazaki's and Kyokungenryu Karate rival).
The official story given by SNK is as follows:
"It's the year of our Lord, 1995. Once again invitations to the King of Fighters tournament have found their ways to the world's most powerful fighters.
And their author is none other than the mysterious "R!" Could the "R" be that of Rugal, who supposedly blew himself up on his aircraft carrier a year ago?
Among the contestants for this year's tournament is the newly selected team of Billy, Yagami, and Kisaragi, who sent the American Team packing.
But what in the end is Billy's scheme? What ambitions does Kisaragi cradle? And what evil designs for his old foe Kyo Kusanagi spur Iori Yagami on?
These new challengers join all of the previous tournament's contestants-except the American Sports Team, of course-both in battle and the all-consuming intrigue that forms the core of King of Fighters '95."
Characters
Edit
Playable Characters
Edit
Hero Team
Edit
Fatal Fury Team
Edit
Art of Fighting Team
Edit
Ikari Warriors Team
Edit
Psycho Soldier Team
Edit
Women Fighters Team
Edit
Korea Justice Team
Edit
Rivals Team
Edit
Final Boss
Edit
Game Boy Exclusive Character
Edit
Note: The Hero & Fatal Fury Teams and Bosses stages don't have intros.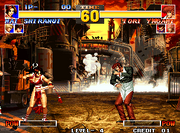 External Links
Edit