The King of Fighters '98: Dream Match Never Ends

Promotional art, showing Kyo, Iori, Terry, Yashiro, King, Heidern, Chang, Choi, Ralf, Heavy-D! & Athena. Illustration by Shinkiro
Developer(s)
SNK, Yumeboko (PS1), D4 Enterprise (Wii Virtual Console), Hamster Corporation (PS4, Xbox One, Nintendo Switch)
Publisher(s)
SNK, D4 Enterprise, Hamster Corporation
Release date
Arcade
JP July 23, 1998
NA July 22, 1998
Neo Geo
INT September 23, 1998
Neo-Geo CD
JP December 23, 1998
NA 1998
PlayStation
JP March 25, 1999
Dreamcast
JP June 24, 1999
NA September 9, 1999
PlayStation Network
PlayStation:
JP June 28, 2007
PlayStation 2:
JP November 19, 2014
Wii Virtual Console
JP October 23, 2012
NA March 7, 2013
EU May 30, 2013
iOS & Android
July 24, 2014
Nintendo Switch
WW March 3, 2017
PlayStation 4
INT January 11, 2018
NA February 26, 2018
Xbox One
WW January 11, 2018
Neo Geo Mini
AS TBA
WW TBA
Genre
Fighting game
Game modes
Team Battle; Up to 2 players simultaneously
Ratings
iOS
12+ (Apple)
Wii Virtual Console
Teen (ESRB)
Platform(s)
Arcade, Neo Geo, Neo Geo CD, PlayStation, Dreamcast, PlayStation 2, PlayStation Network, Xbox Live Arcade, Virtual Console, iOS, Android, PlayStation 4, Xbox One, Nintendo Switch, Neo Geo Mini
The King of Fighters '98: Dream Match Never Ends (The Slugfest in the rest of the world) is the fifth game in The King of Fighters series. The game was released for the Neo-Geo and later ported to the Sony PlayStation and Sega Dreamcast. The Dreamcast port of the game was titled The King of Fighters: Dream Match 1999. A remake titled The King of Fighters '98 Ultimate Match was released in Japanese arcades on March 18, 2008 and later on the PlayStation 2. The original game was then released on the iOS on July 25, 2014.
In terms of plot, the game don't have a story and was developed as a "dream match" for characters from all previous King of Fighters games, including killed-off characters. The series' canon storyline would resume in The King of Fighters '99.
Characters
Edit
Playable Characters
Edit
Hero Team
Edit
Fatal Fury Team
Edit
Art of Fighting Team
Edit
Ikari Warriors Team
Edit
Psycho Soldier Team
Edit
Women Fighters Team
Edit
Korea Justice Team
Edit
New Faces Team
Edit
'97 Special Team
Edit
Yagami Team
Edit
Masters Team
Edit
American Sports Team
Edit
Single Entry
Edit
Alternate Characters
Edit
Orochi Team
Edit
Alternate Versions
Edit
Special Edit Teams
Edit
Sacred Treasures Team
Edit
Kyo Kusanagi
Iori Yagami
Chizuru Kagura
Shingo Team
Edit
Shingo Yabuki
Kyo Kusanagi
Iori Yagami
Rugal Team
Edit
Rugal Bernstein
Mature
Vice
SNK Heroes Team
Edit
Kyo Kusanagi
Terry Bogard
Ryo Sakazaki
No. 2 Team
Edit
Benimaru Nikaido
Andy Bogard
Robert Garcia
No. 3 Team
Edit
Goro Daimon
Joe Higashi
Yuri Sakazaki
Baseball Team
Edit
Ralf Jones
Blue Mary
Lucky Glauber
Father Team
Edit
Saisyu Kusanagi
Takuma Sakazaki
Kim Kaphwan
Rapid-Punch Team
Edit
Billy Kane
Chang Koehan
Joe Higashi
Severely Burned Team
Edit
Kyo Kusanagi
Saisyu Kusanagi
Orochi Chris
Sakazaki Family Team
Edit
Takuma Sakazaki
Ryo Sakazaki
Yuri Sakazaki
Teen Team
Edit
Shingo Yabuki
Sie Kensou
Chris
Orochi Ladies Team
Edit
Orochi Men Team
Edit
Yashiro Nanakase
Chris
Ryuji Yamazaki
Kusanagi Style Team
Edit
Kyo Kusanagi
Saisyu Kusanagi
Shingo Yabuki
Comedy Team
Edit
Robert Garcia
Sie Kensou
Choi Bounge
"Cute" Team
Edit
Choi Bounge
Chin Gentsai
Chang Koehan
Terry Bogard
Lucky Glauber
Clark Still
Other Hero Team
Edit
Shingo Yabuki
Benimaru Nikaido
Goro Daimon
Other Ikari Team
Edit
Other Heroine Team
Edit
Athena Asamiya
Mai Shiranui
Yuri Sakazaki
Power Team
Edit
Ralf Jones
Brian Battler
Chang Koehan
April 8th Birthday Team
Edit
King
Mature
Shingo Yabuki
Note: This game is the last of the franchise in which the characters are waiting to fight in the background and the first of the few games in the series where it's possible to choose the stage which you fight, in versus mode. It's also the first game of the franchise with practice mode. In the remake of the game ('98 UM), in the 3D backgrounds (only available in PS2 version), the natural sounds of the stages doesn't appears. In addition, the changes of the stages are different in both versions.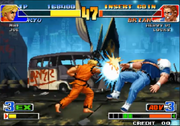 External Links
Edit