The King of Fighters '99: Millenium Battle

Cover. Illustration by Shinkiro
Developer(s)
SNK, D4 Enterprise (Wii Virtual Console), Hamster Corporation (Nintendo Switch)
Publisher(s)
SNK, Agetec (PS1), D4 Enterprise, Hamster Corporation
Release date
Arcade
JP July 22, 1999
Neo Geo
INT September 23, 1999
Neo Geo CD
JP December 2, 1999
NA 1999
PlayStation
JP March 23, 2000
NA April 22, 2001
Dreamcast
Original:
JP June 24, 1999
US 1999
Evolution:
JP March 30, 2000
US October 25, 2001
PlayStation Network
JP June 28, 2007
US May 14, 2009
Microsoft Windows
JP December 22, 2000
Wii Virtual Console
JP December 18, 2012
NA May 16, 2013
PAL July 4, 2013
Nintendo Switch
WW May 25, 2017
Genre
Fighting game
Game modes
Team Battle; Up to 2 players simultaneously
Ratings
PlayStation & Wii Virtual Console
Teen (ESRB)
Platform(s)
Arcade, Neo Geo, Neo Geo CD, PlayStation, Dreamcast, PlayStation Network, Wii Virtual Console, Microsoft Windows, Nintendo Switch
The King of Fighters '99: Millennium Battle is the sixth game in The King of Fighters series. Introducting new elements like the Striker Match and Counter Mode, and increasing the number of characters per team from three to four. The game acts as the first of a three part story known as the The NESTS Chronicles involving a shadowy organisation plotting world domination, this part introducing the concept of the Kyo Kusanagi clones and K', who is the main character in this story arc.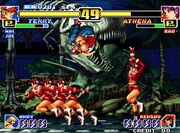 "You are cordially invited to this year's King of Fighters."
The invitation is sent to fighters all over the world. The King of Fighters will take place again this year!
But the circumstances this time around are different. There is not a hint of the hoopla surrounding the entrants like that of the previous tournament which thrilled the whole world. For the skeptical fighters, even the new tournament rules for battles bode ill...
"The method of combat will be 3-on-3 battles. The adoption of Striker Matches, however, has been decided for this tournament...."
"Striker Matches?!" The fighters cannot hide their surprise at this unfamiliar mode of battle.
Meanwhile, Heidern, who sees through the suspicious tournament, dispatches Ralf and Clark to investigate the truth behind this tournament.
Benimaru Nikaido, as well, receives an invitation to KOF and to join the Special Team consisting of other carefully selected fighters.
Among the pre-selected teammates listed appear two names: K' (K-Dash) and Maxima. Benimaru is confused-he's never seen these names listed at any other fighting events; regardless...
Benimaru heads toward the tournament venue, clearly unsettled by the circumstances, and the other entrants are soon to follow.
WHAT IS THE STRIKER MATCH?
What is behind this year's tournament?
With its myriad of mysteries, the King of Fighters gets ready to begin!
Characters
Edit
Playable Characters
Edit
Hero Team
Edit
Fatal Fury Team
Edit
Art of Fighting Team
Edit
Psycho Soldier Team
Edit
Ikari Warriors Team
Edit
Women Fighters Team
Edit
Korea Justice Team
Edit
Singles Entry
Edit
Hidden Characters
Edit
Special Edit Teams
Edit
These ending illustrations can only be seen on the Neo Geo CD and Playstation ports.
KOF Generation Team
Edit
K'
Iori Yagami
Kyo Kusanagi
Shingo Yabuki
Whip and Her Servants Team
Edit
Whip
Benimaru Nikaido
Kyo Kusanagi
Iori Yagami
Inhumanly Strong Team
Edit
Maxima
Ralf Jones
Bao
Chang Koehan
Good Looking Team
Edit
Andy Bogard
Benimaru Nikaido
Jhun Hoon
Chang Koehan
Little Kids Team
Edit
Bao
Li Xiangfei
Shingo Yabuki
Sie Kensou
Masters Team
Edit
Takuma Sakazaki
Chin Gentsai
Kim Kaphwan
Jhun Hoon
Terry Bogard
Clark Still
Choi Bounge
Bao
Short Haired Team
Edit
Blue Mary
Whip
King
Athena Asamiya
Midriffs Team
Edit
Benimaru Nikaido
Leona Heidern
Athena Asamiya
Blue Mary
Shingo Servitude Team
Edit
Kyo Kusanagi
Kyo-1
Kyo-2
Shingo Yabuki
All Kyo Team
Edit
Kyo Kusanagi (both player and striker versions)
Kyo-1
Kyo-2
Note: The All Kyo Team ending can only be accessed in The King of Fighters '99: Evolution
All Fatal Fury Team
Edit
Any team composed of Fatal Fury only characters.
All Art of Fighting Team
Edit
Any team composed of Art of Fighting only characters.
The King of Fighters '99: Evolution
Edit
The King of Fighters '99: Evolution was a remake of KOF '99 for the Dreamcast and PlayStation 2. This version had different stages and a few selectable striker characters. This version also marked the introduction of Vanessa and Seth to The King of Fighters series. The Japanese version can also transfer data with The King of Fighters: Battle de Paradise.
Characters
Edit
External Links
Edit
Ad blocker interference detected!
Wikia is a free-to-use site that makes money from advertising. We have a modified experience for viewers using ad blockers

Wikia is not accessible if you've made further modifications. Remove the custom ad blocker rule(s) and the page will load as expected.