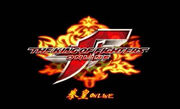 The King of Fighters Online is a Korean produced MMORPG for the The King of Fighters series. It is developed by Dragonfly -who also made Metal Slug Online Zero- and Triple A Games. Beta testing is slated to begin in 2010. The game is advertised to appeal to MMO fans as well as fans as the original series and will be in full 3D.
So far, what's been leaked is that the game will be a quasi-RPG beat'em up. Players can switch between characters from the games whilst they fight several original villains. They can perform many of the attacks that appear in the series and can level up as they progress. The action is in real time and quick to perform. The only time when the action freezes is to quickly see the entrance of the boss character on the map. Player vs Player options are also available. While so far the only stage seen is a factory, more are in the works and will be environments interactive to the actions of the player. Combos are also a work in progress.
Characters
Edit
External Links
Edit
Ad blocker interference detected!
Wikia is a free-to-use site that makes money from advertising. We have a modified experience for viewers using ad blockers

Wikia is not accessible if you've made further modifications. Remove the custom ad blocker rule(s) and the page will load as expected.