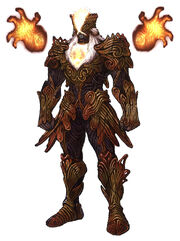 This list is incomplete. You can help improve it by editing!
The King of Fighters XIV
Edit
In Battle
Edit
"Vwoooooooooh!"
"Reryaaaaaaah!"
"Veeeeeeeeeeeeerrrrrrrrrrrrse!"
"Raaaaarrrrgh!"
"Verse-Verse-VEEEEEERRRRRRRRRRSE!"
"Dubuzuguvegah..." (kneeling KO)
"Versegyah!" (standard KO)
"Duvograh!" (final KO)
Win Quotes
Edit
Verse!
Dubuzuguvegaaaahh!!
Vooooaaaaah!!!!
Gvoooofoooo…
"Same as always... Monsieur." (Ash Crimson's Soul) (vs. Iori)
"I am... the original..." (Krizalid's Soul) (vs. K')
"I am... Orochi... Now... here... return to nothingness." (Orochi's Soul) (vs. Kyo)
"Always… watching over you..." (Gaidel's Soul) (vs. Leona)
"What's wrong…? You can be my secretary again..." (Rugal Bernstein's Soul) (vs. Mature)
"Following me to this world… You disgust me… Gehehe." (Mizuki Rashojin's Soul) (vs. Nakoruru)
"Finally… I found you… You… fragment of me..." (vs. Shun'ei)
"I am the strongest… Try to best me." (Igniz's Soul) (vs. Sylvie)
Ad blocker interference detected!
Wikia is a free-to-use site that makes money from advertising. We have a modified experience for viewers using ad blockers

Wikia is not accessible if you've made further modifications. Remove the custom ad blocker rule(s) and the page will load as expected.