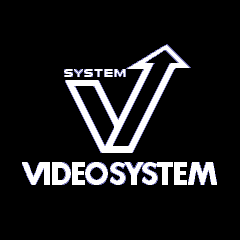 Video System was a Japanese videogame developer founded in 1984 and based in Kyoto. The company worked mostly with Mahjong simulators, but it was best known for ther Sonic Wings series of shoot 'em ups. They also made many other games for different genres (some of which for the Neo Geo system), with many of it's characters later crossing over into the Sonic Wings games as playable characters. The company would close it's doors around 2001, with most of their staff having already moved into other companies such as Psikyo.
Ojanko Club
Chinese Casino
Rabio Lepus / Rabbit Punch
Rettou Juundan Nekkyoku Janshi: Higashi Nippon Hen
Mahjong Fun Club: Idol Saizensen
Mahjong Summer Story
Super Volleyball
Tail to Nose Great Championship
Hatris
Mahjong Daiyogen
Pipe Dream
Spinal Breakers
F1 Grand Prix
Idol Mahjong Final Romance
Karate Blazers
Nekketsu Mahjong sengen! After 5
Power Spikes
Turbo Force
Alexei Pajitnov's Welltris
F1 Grand Prix Part II
Lethal Crash Race
Tao Taido
Taisen Idol Mahjong Final Romance 2
Taisen Mahjong Final Romance R
3 on 3 Dunk Madness (unreleased)
Sonic Wings Limited
Quiz & Variety Sukusuku Inufuku
Taisen Mahjong Final Romance 4
Ad blocker interference detected!
Wikia is a free-to-use site that makes money from advertising. We have a modified experience for viewers using ad blockers

Wikia is not accessible if you've made further modifications. Remove the custom ad blocker rule(s) and the page will load as expected.