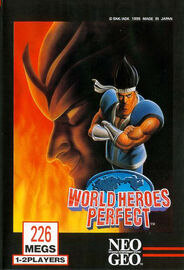 World Heroes Perfect is the last game in the World Heroes series.
A year has passed since the dark tournament association's movements... The world was peaceful and invitations for the third World Heroes' tournament were mailed by Doctor Brown himself. Heroes who wanted to prove themselves, rivals who wanted their matches settled, and other fighters began to gather once more for the decisive tournament. The news of Zeus' participation was also part of the agenda for those who wanted revenge. The tournament's organization was already desperate but that was not its only horror!
The third sequel, and final installment to the World Heroes series. In this version of World Heroes, every character has an "ABC Special Move" that can be activated by pressing the A, B, and C buttons at the same time. The gameplay runs smoother, and the graphics have improved.
Characters
Edit
External Links
Edit
Ad blocker interference detected!
Wikia is a free-to-use site that makes money from advertising. We have a modified experience for viewers using ad blockers

Wikia is not accessible if you've made further modifications. Remove the custom ad blocker rule(s) and the page will load as expected.