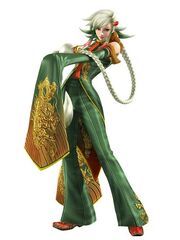 This list is incomplete. You can help improving it by editing.
Here is a list of quotes for Xiao Lon. "King" and "that man" refers to Ron and the "third prince" is Duo Lon.
KOF Maximum Impact Regulation A
Edit
In Battle
Edit
Japanese
English Translation
Kore ni te owari ni masho
And this shall finish it
Muda yo
It's hopeless
Ima wa kore ni te
That's all I'll do for now
Rako!
Henji!
Himijin Iseen!
Jama da
You're in my way
Chichue!
Father!
Pre-fight
Edit
"Okaku go." - "Prepare yourself."
Win Quotes
Edit
"Kore ga Hizoku to iu mono desu" - "This is Hizoku."
Special Quotes
Edit
Versus
Xiao Lon's Quotes
Japanese
English translation
Occurs when/during
Alba Meira
Suzumu mo jigoku, motoru mo jigoku. Nara, watashi wa maei dake wo mitsumete aruiteikimasu. Ano kata ni au tame ni...
Continuing is hell and going back is hell. Then, I can only press onward and see what lies ahead. All to see him...
Introduction - response to Alba
Alba Meira
Watashi wo mienaide kudasai! Asamashii mi to narihateta kono watashi o...
Please don't look at me! Don't see how miserable my body and mind have become...
Xiao Lon wins
Ash Crimson
Hizoku no koto wo gozonji nara, Duo Lon toiu hito shirimasenka?
If you're acquainted with the Hizoku, would you happen to know about a person named Duo Lon?
Introduction - response to Ash
Athena Asamiya
Kanashiku nato arimasen. Kirikiri na watashi ga, Ou ya Santatsu no tamei ni yakunitatsu ni wa, ko no karada wo te ni irerushaka nakata kara desu.
I am not sad in the least. Since I was incompetent, I obtained this body to be a better use for the king and the third prince.
Introduction - response to Athena
Athena Asamiya
Kanashiku nato arimasen. Kokai mo shiteiimasen. Watashi ga nozonte ukeiireta unmei desu. Demo, tokidoki namida ga tobaranakunaru.
I am not sad and I have no regrets. This is the destiny that I wished for myself. But sometimes my tears won't stop.
Xiao Lon wins
Blue Mary
Sou omou no nara, kiite kudasai.
If you think that, then please retreat.
Introduction - response to Mary
Blue Mary
Moshi anata ga Ron to iu hito ni deatara... Iie, nandemo arimasen.
If you meet someone named Ron... No, it's nothing.
Xiao Lon wins
Iori Yagami
Sou miemasu ka?
Is that what you see?
Introduction - response to Iori
Iori Yagami
Norowashi kono miwa, ano okata o mamoru tsurugi. Watashi ni wa, shi wo erabu kenri mo nai no desu.
With this cursed body, I am a protective blade for that man. My only right is to accept death.
Xiao Lon wins
Leona Heidern
Anata wa... tsuyoi no desu ne.
You... must be strong.
Introduction - response to Leona
Leona Heidern
watashi ni mo sonna tsuyosa ga areba, motto waraeta kamo shiranai no ni.
If I had such strength, I might be able to smile more.
Xiao Lon wins
Seth
Oboeitemasen. Demo, subete wo wasereru koto mo dekinai no desu.
I don't remember. But I can't forget everything either.
Introduction - response to Seth
Seth
Ano okata ga doko ni iru ga, gozonji dewa arimasenka?
Would you happen to know where that man is?
Xiao Lon wins
Soiree Meira
Watashi ni wa sawarenaide kudasai! Shi ni takunai no nara...
Please don't touch me! If you don't want to die...
Introduction - response to Soiree
Soiree Meira
Ano okata mo, mukashi wa anata no youni itsumo warateita.
That man used to always smile like you in the past.
Xiao Lon wins
K' / Maxima
Ron, to iu hito, gozonji arimasenka?
Do you know of a person named Ron?
Introduction
K' / Maxima
Aitai... mou ichido, ano kata ni aitai.
I want to meet him. I want to meet that person once more.
Xiao Lon wins
Ad blocker interference detected!
Wikia is a free-to-use site that makes money from advertising. We have a modified experience for viewers using ad blockers

Wikia is not accessible if you've made further modifications. Remove the custom ad blocker rule(s) and the page will load as expected.