Ad blocker interference detected!
Wikia is a free-to-use site that makes money from advertising. We have a modified experience for viewers using ad blockers

Wikia is not accessible if you've made further modifications. Remove the custom ad blocker rule(s) and the page will load as expected.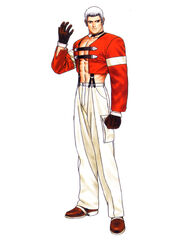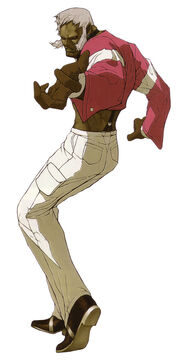 This list is incomplete. You can help improving it by editing!
This is a list of quotes for Yashiro Nanakase and Orochi Yashiro
In Battle
Edit
Moves
Japanese
English Translation
Intro
Mezamero, daichi yo!(*)
Now awaken, great land!(*)
Intro 2002
Chi ni ugomeku chikara, ware ni!(*)
The power to move the land, is mine!(*)
Yashiro vs. Iori '98
Yada na...tsuyosou...te ka!
Oh no...is he strong...not!
Yashiro vs. Iori 2002
Itakushicha iya yo...te ka!
I won't like it if it hurts...not!
Million Bash Stream, Hoeru Daichi
Ichimai na!
Go away!
Final Impact
Otonashiku netero!
Just stay down!
Odoru Daichi
Ugoku na!(*)
Don't move!(*)
Odoru Daichi Miss
Tendarou ga!(*)
Just as I said!(*)
Kujiku Daichi
Totta!(*)
Gotcha!(*)
Niragu Daichi 2002
Yasumi sunna!(*)
Don't try to rest!(*)
Araburu Daichi beginning
Otonashiku shitero yo!(*)
Just stay there!(*)
Araburu Daichi ending
Sugu owaru kara yo!(*)
It'll end very soon!(*)
Ankoku Jigoku Gokuraku Otoshi beginning
Choshi koiten ja nee zo kora!(*)
Don't get too cocky!(*)
Ankoku Jigoku Gokuraku Otoshi ending (SDM)
Sono inochi moratta!(*)
That life is mine!(*)
[ERROR] CODE 2002
Temee...bekobeko ni shiteyaru ze!
You bastard...I'm gonna bust you!
Armageddon
Zettei...koukai sasette yaru ze!(*)
You will definitely...regret this!(*)
Yashiro vs. Chris/Goenitz
Yo!
Yashiro vs. Shermie '98
Tanoshimou ze.
Let's have some fun.
Yashiro vs. Shermie 2002
Patsun patsun da na...
You're so beautiful...
Win pose 1
Bai-bai...
Bye-bye...
Win pose 2
Kenka ga tsuyoi ueni, otokomae.
I'm not just strong, I'm handsome too.
Win pose 3
Tanoshin deru?
Was that fun?
Taunt, Yashiro vs. Lucky/Brian
Muki ni naru nai yo!
Don't get so serious!
Taunt 2
Namaiki da! (*)
How annoying! (*)
Defeat
Nani?!
What?!
(*) As Orochi Yashiro
The King of Fighters '98
Edit
Win Quotes
Edit
"You're not too bad. That is, you're second."
The King of Fighters 2002
Edit
Win Quotes
Edit
"You're big! You're tough! You're out of control!" (Win as Yashiro)
"Speed. Brains. Looks. Strength. You need it all, my friend!" (Yashiro, hold B)
"My fists have it all! I can knock down anyone!" (Yashiro, hold C)
"How 'bout singing at my place. I'll compensated you richly!" (Yashiro vs. Athena)
"Hey, our guests await. Let's go, you dorky putz!" (Yashiro vs. Iori)
"Hey, Chris. I've beaten babies stronger than you, pork belly!" (Yashiro vs. Kula)
"Enjoy these Fisticuffs? You better stay down, simp!" (Yashiro vs. Art of Fighting Team)
"Quiet down, you fly!" (Win as Orochi Yashiro)
"Ape me, will you? You bargain basement boob!" (Orochi Yashiro, hold B)
"Now who were you calling, "sissy"?" (Orochi Yashiro, hold C)
"Enemies! Bring me enemies!" (Orochi Yashiro vs. Mature/Vice)
"Bring on all your buddies! I'll moidalize you!" (Orochi Yashiro vs. K9999)