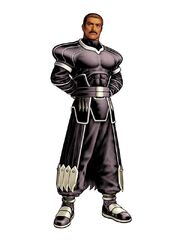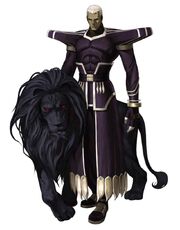 Here is a list of quotes for Zero (Clone and Real).
In Battle (Clone Zero & Zero)
Edit
"Baka me!" - "You fool!"
"Amai wa!" - "Useless!"
"Nurui!" - "Pointless!"
"Konna mono de..." - "How could this happen..."
The King of Fighters 2000 (Clone Zero)
Edit
In Battle
Edit
"Kouiu jikan wa tanoshi mono dana." - "It's times like these that excite me."
"Wakaru ka?" - "Do you understand?"
"Kobiyo koto da!" - "Bow before me!"
"Futari de ikuru ka...omoshiroi." - "You're going as two...interesting."
"Hehehehe, uragiri mono ka." - "Hehehehe, you traitor."
"Zero wo koeru mono wa, Zero shikainae." - "The one to exceed a Zero, is a Zero."
Win Quote
Edit
"Zero doesn't mean nothing. I'm the all that's touched by none!"
The King of Fighters 2001 (Zero)
Edit
In Battle
Edit
"Doushita?" - "What's wrong?"
"Mogaku mono domo yo, sono teido ka?" - "You who struggle, is that your best?"
"Ka koku no michi no you da..." - "This way is..."
Win Quotes
Edit
"Want to be consoled? You're too pathetic for that."
"If you're the KOF winners, humankind is finished."
"A piddling vessel such as yourself can hold only so much power."
"Ho, ho, ho... You can't beat an original."
"I knew this'd be. Too bad you didn't."
"Kyokugen Karate? More like disco dancing!" (vs. Art of Fighting Team)
"Hungry Wolf? Think again before tangling with a lion." (vs. Fatal Fury Team)
"Fool! You know not your own abilities." (vs. Hero Team)
"Hah! Heidern, the difference in our strength is obvious." (vs. Ikari Team)
"The legendary Team Japan? A pretty tired legend indeed." (vs. Japan Team)
"Fool! NESTS is the only true justice." (vs. Korea Team)
"To think bilge like you could've belonged to NESTS." (vs. NESTS Team)
"Your psychic powers pale to those of NESTS!" (vs. Psycho Soldier Team)
"Forgive me, ladies. I never got used to fighting women." (vs. Women Fighters Team)
"Mere yelping dogs! NESTS fears you not." (vs. Yagami Team)
The King of Fighters 2002: Unlimited Match
Edit
Win Quote (Clone Zero)
Edit
"I've lost count of my victories after 100!"
In Battle (Zero)
Edit
"Tadakai wa mada owaranaku. Seizei watashi mo tanoshimasete kure." - "This battle is far from over. Now allow me to have some fun."
"Tadashi wa motoi."
"Shishi yo." - "O lion."
Win Quote (Zero)
Edit
"Before the fangs of the Black Lion, you're prey!"
Ad blocker interference detected!
Wikia is a free-to-use site that makes money from advertising. We have a modified experience for viewers using ad blockers

Wikia is not accessible if you've made further modifications. Remove the custom ad blocker rule(s) and the page will load as expected.